Parents in the Park: Occupy Wall Street, Work-Family Conflict and the 99%
The Occupy Wall Street movement has been sweeping the globe and captivating the media this month.  With the message "We are the 99%," American protesters are drawing attention to the frustrating growth of income inequality in the United States.  Here in New York, working families have joined the protests, and parents are working together to highlight the many struggles of today's families, such as the rapidly rising costs of health care and child care.  On Columbus Day, many children visited Zuccotti Park, the movement's home base just a few blocks away from A Better Balance's office.  Based on the continuing interest of New York families, Parents for Occupy Wall Street also held a family sleepover in the park last weekend.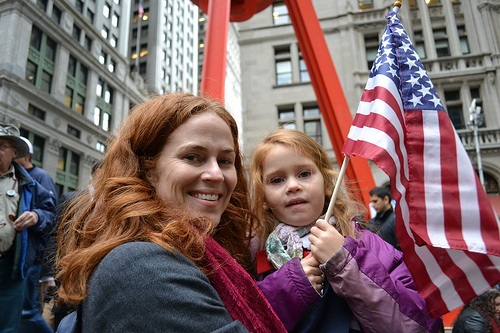 The timing of this family involvement in Occupy Wall Street is notable because October is National Work and Family Month.  This is an opportune time to consider the frustrations of many American parents who struggle to manage the competing demands of work and family. Because our country has done little to support the work of caring through public policy, families are left to confront these challenges largely on their own.  All families are affected—even the 1%—but for those with fewer financial resources, the problem is particularly severe.
The income inequality that led to Occupy Wall Street is amplified by workplace policies that make it increasingly difficult for workers to care for their families without risking their economic security.  For example, lower-income workers are less likely to have access to workplace flexibility—a concept that encompasses a range of policies, including part-time work, flexible work schedules, telecommuting, paid leave, and adequate break time for nursing moms.  A 2010 study by Heather Boushey and Joan Williams reported that approximately 70% of low-income workers in the United States lack flexibility in their starting and stopping times, compared to nearly 40% of high-income professional workers.  Moreover, only 18% of low-income workers have paid maternity leave through a short-term disability plan, compared to almost 60% of high-income professional workers.  Similarly, the likelihood that a worker has paid sick time for personal or family illness depends on wage level.  In the New York metropolitan area, 84% of workers in the top wage quartile have paid sick time, while only 37% of those in the bottom quartile do.  Parents in low-wage jobs have an especially pressing need for paid sick time; these workers need every dollar they earn to pay the rent and provide food for their families, and they cannot risk job loss in this precarious economy.
The need for workplace flexibility for all workers and their families, regardless of income level, is clear.  Workplace flexibility substantially improves the physical and mental health of employees.  Research has shown that employees who believe they have workplace flexibility sleep better, lead healthier lives, and report lower levels of stress. Workers are not the only beneficiaries of workplace flexibility; children and elderly relatives also benefit from policies that support working families.  Many studies have demonstrated the health advantages of breastfeeding, yet inflexible schedules and lack of sufficient breaks are often barriers to mothers who want to pump breast milk after returning to work.  The need continues as children get older: school-age children are more likely to attend scheduled medical appointments when their parents have workplace flexibility.  Flexible work arrangements also provide critical support to workers who care for elderly loved ones.  Elderly recipients of family caregiving are less likely to have long hospital stays and less likely to have nursing home care or home health care paid for by Medicare.
The benefits of workplace flexibility extend beyond working families to the entire community.  Paid sick time laws and policies, which allow workers to stay home to care for themselves or their sick family members, decrease the spread of illness in businesses and public spaces.  For example, a 2010 study reported that more than 87% of restaurant workers in the United States have no paid sick time, and more than 63% of restaurant workers reported cooking and serving food to customers when ill.  Because family-friendly workplace policies improve health outcomes for working families and decrease the spread of illness in the community, everyone benefits from the reduced burden on our health care system.  Flexible work policies often require little of employers, yet the benefits are tremendous for workers, their families, and the community at large.
Inflexible workplaces and the widespread lack of paid leave in the United States harm workers and families in the 99%.  Workplace flexibility is a common-sense way to achieve greater economic justice in the United States without harming businesses or the American economy.  Research has even shown that workplace flexibility and family-friendly policies are good for a company's bottom line.  As policymakers begin to channel energy from the Occupy Wall Street protests into long-lasting change, they must not forget working families and the tremendous benefits of workplace flexibility.
For more pictures from the Parents Occupy Wall Street sleepover, click here.
To add your name to A Better Balance's New York State Working Families' Bill of Rights petition, click here.
Cross-posted from A Better Balance's Blog.
About A Better Balance: A Better Balance is a national legal advocacy organization dedicated to promoting fairness in the workplace and helping workers meet the conflicting demands of work and family.  Through legislative advocacy, litigation, research, public education and technical assistance to state and local campaigns, A Better Balance is committed to helping workers care for their families without risking their economic security.