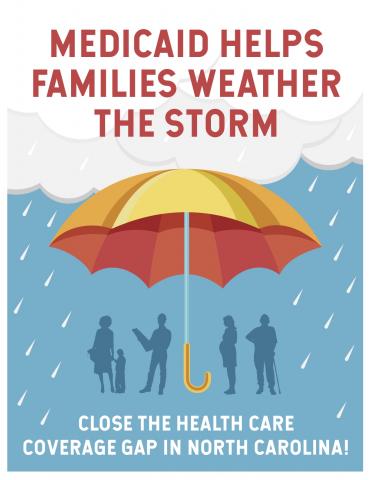 Parents in North Carolina Can't Wait for Health Care
More than half a million North Carolinians—many who are parents—can't see a doctor when they need one because reliable health insurance is out of reach.
Yet, the NC legislative session just ended without expanding Medicaid.
Across North Carolina, thousands of low-income families fall into the "coverage gap," earning too much to qualify for Medicaid and too little to gain subsidies to purchase health coverage in the insurance marketplace. Many of these folks work in jobs that do not provide health coverage, including food service, retail, construction and early childhood education.
Learn more about Medicaid expansion in NC at http://www.healthcarecantwait.org/.
Meet a real person in the gap
Anetra has a B.A. in English and minor in American Indian studies. She loves working in early childhood because she feels that she can have the greatest impact working with young children. "Research has shown that by the time a child reaches three, they learn as much vocabulary as they are going to learn in a lifetime." Without insurance, Anetra is unable to get the glasses she needs, go to the GYN or get a mammogram. Her job requires her to get a physical and TB shots, which cost her a day's pay. "Not having health insurance is detrimental to my health, and then I'm leaving a burden on my family members to take care of me later in life. And I don't want to do that to my kids. I want to take care of it now while I can."
Find more stories of North Carolinians, like Anetra, who are fighting for affordable health coverage at http://www.healthcarecantwait.org/. 
Medicaid expansion in North Carolina is a cost-effective solution
North Carolina can take advantage of available federal funding right now to bring health care to half a million people. 37 other states have done this by expanding the Medicaid program, including our neighbors in Virginia.
Getting coverage to uninsured people saves states money. Research in Montana, Colorado, Michigan, Louisiana and Virginia found that expanding Medicaid resulted in significant savings to those states' general funds.
See which states have expanded Medicaid – it might surprise you - http://www.healthcarecantwait.org/
Expanding Medicaid in NC makes economic sense 
Covering more uninsured people reduces health care costs for everyone, even for those who have their own private health insurance. When people can't afford basic care, they often wind up in the ER with preventable - and very expensive - health crises. Hospitals have to eat the cost – and those costs are passed along to the rest of us. That's why premiums for people who buy their own health insurance are now significantly lower in the 37 states that have already expanded Medicaid.
See the real impact Medicaid expansion could have in your county - http://www.healthcarecantwait.org/county-data/ 
How you can help: