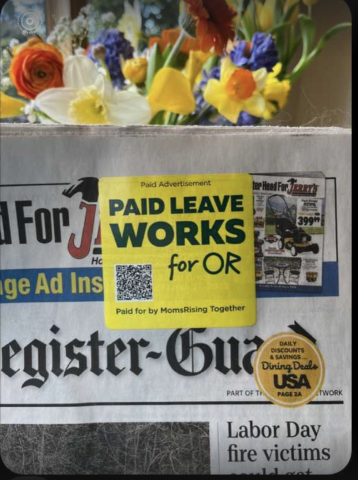 Despite what you may have heard, we're still in the fight to pass paid family and medical leave for every worker! So be prepared to be sick of us because we're fighting for paid leave in the halls of Congress, we're meeting our legislators in district offices, we're posting on social media, and we're posting in newspapers across the country. We're talking to moms and members just like you and we're not going to stop until we have paid family and medical leave for all. 
If you happen to live in Illinois, North Carolina, Nevada, New Hampshire, New York, Oregon, Pennsylvania, ,Virgina, Washington or West Virginia, you may have come across our Paid Leave Works stickers placed in several publications. The message is crystal clear: Paid Leave Works. Period. Moms and families want you to know that Paid Leave Works and not only for the 13 states plus Washington, DC who have passed paid family and medical leave but for everyone, for every worker across this nation. 
This past February, we celebrated a milestone, the 30th anniversary of the Family and Medical Leave Act; groundbreaking legislation that provided eligible employees with 12 weeks of job-protected unpaid leave. This was a big win for workers and caregiving families if you were lucky enough to be covered AND could afford to take unpaid leave. But the truth of the matter is that not everyone wins the boss lottery, only 19% of working people have access to paid family and medical leave and that's something we're actively trying to change. 
Since then, we've continued to witness the momentum or MOMentum for paid family and medical leave throughout the country and what's even better is President Biden using his bully pulpit to demonstrate his support and his administration's commitment to the care economy, workers and families. Not only did the White House release a memo affirming their commitment to advancing paid family and medical leave throughout the country, they also announced actions to advance women's economic security by issuing a Presidential Memorandum  encouraging heads to Federal agencies to provide access to leave for federal employees when needed, including during their first year of service and ensured military individuals have access to 12 weeks of paid parental leave. 
Adding to the incredible list of wins, President Biden's Fiscal Year 2024 budget proposal will lower costs for families, grow our economy, and deliver results for everyone. Results that include advancing gender and racial equity by furthering the care economy which means providing national comprehensive paid family and medical leave, paid sick leave for every worker and advancing equity in the child welfare system. This is no small feat, strengthening the care economy means ensuring families have the time they need to care for themselves and their loved ones, it means millions of workers won't have to choose between a paycheck and taking care of a family member, it means what we're doing is working. 
We're encouraged by President Biden and his administration's commitment to the care economy, workers and families. It's a sign that what we're doing is working, we're not letting up and neither should you! 
Sign our petition urging Congress to take action and pass paid family and medical leave for all because Paid Leave works!
P.S.– Personal experiences are powerful and can make a HUGE difference in helping elected leaders understand how public policies impact families so they can move change. We want to hear more from YOU! Can you take a second and follow the link below to share your personal story about how having, or NOT having, access to job-protected paid leave or affordable, quality child care has impacted your family? https://action.momsrising.org/survey/Caretaking_Stories/?t=10&akid=17594...