Take action!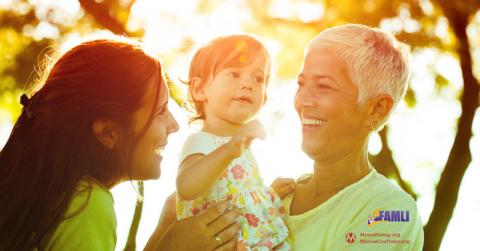 Paid family leave JUST introduced in Colorado!
I can barely contain my excitement! 
Last Thursday, the CO FAMLI Act (Family and Medical Leave Insurance Act) was introduced in the Colorado State Senate as SB19-188. After 5 years of this bill being introduced and discussed, this could FINALLY be the year it passes!
But we can't take anything for granted. We've got to make sure our legislators know we're counting on them to pass the strongest bill possible!
→ Sign our petition to show your support for paid family and medical leave in Colorado!
No one should have to go back to work just days after having a baby, no one should lose their job because they get cancer, and no one should risk their financial security to care for an aging parent. We need an insurance plan that provides a meaningful length of leave, is accessible to all working people, covers all families, and is affordable, cost-effective and sustainable for workers, employers, and taxpayers.
I have been proud to work with the CO FAMLI Coalition over the past 6 months to craft a paid family and medical leave insurance policy that truly meets the needs of all Coloradans. To ensure MomsRising members' voices are heard in this process, we spent the last two months traveling around the state, talking to community members and business owners about what they really needed in a policy. And we recently sent out a survey to our members across the state (that's you!) asking you to weigh in on key policy pieces.
Everything we heard from our members has been shared with the FAMLI Act bill sponsors, and I am very proud to share that this year's CO FAMLI Act overwhelmingly aligns with what we heard from our members. If you weighed in on our survey - THANK YOU!
→ Sign our petition today to urge your legislators to stand up for paid family and medical leave for all Coloradans!
These are some of the key values we heard loud and clear from our members:
Job Protection: Every worker's job should be protected when they take leave.
✅- In the bill, all Coloradans have job protection after 90 days on the job
Accessibility: Every worker, public or private, should have access to the program.
✅- In the bill, every worker in Colorado has access to the FAMLI program, and self-employed people are also able to opt-in.
Adequate amount of leave: Workers should have access to at least 12 weeks to care for their own illness, a family member, or a new child, and most folks told us they wanted people with multiple or complicated situations to have extra time.
✅- In the bill, all Coloradans have access to 12 weeks of leave to care for themselves, a family member, or to bond with a new child - with an extra 2 weeks for multiple events in a year and an additional 2 weeks for complicated pregnancies.
Affordability: Workers and businesses should share the cost of the program equally, and workers should receive wage replacement on a sliding scale so that most workers get a majority of their wages replaced but low-income workers can get more.
✅- In the bill, workers and businesses share the cost of the program 50/50, and wage replacement is on a sliding scale with most workers receiving at least 70% of their wages while on leave and low-income workers receiving up to 90%.
It is time to make paid leave a reality for everyone. Whether it's to care for a newborn you swear already smiles, a parent who is ill, or a spouse battling cancer - being there for family is what matters, and Colorado families shouldn't have to give up a paycheck to do it.
→ Add your name to the list of FAMLI Act supporters so that all Coloradans can take the time they need to care for family without worrying about their financial stability.
P.S.  Are you in the Denver area? Join us on March 13th for the FAMLI Act Rally at 12:00pm at the CO State Capitol. We need everyone there to show the widespread support for this critical issue! You can find more details on the Facebook event!