Our youth know what's right -- help them tell Congress to keep families together.
Every day, 5.5 million children live with the fear that one of their parents could be deported.
Every day, families are torn apart by deportations and immigrant detentions.
And every day, mothers struggle to be reunited with their children, like Yolanda, whose young son was ripped from her arms by immigration officials before she was deported.
It's just not right.
More than anyone, our kids know that it's wrong for children to live in fear that their parents will be taken away.
That's why we're asking children to write letters and draw pictures to express one, holiday wish to members of Congress: stop deportations and keep all of our families together..  Click here www.WeBelongTogether.org/wish to find out how you can help your children write their letters.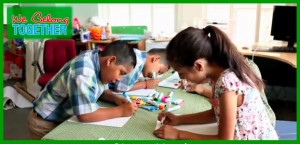 Since we launched our campaign in September, the response has been dramatic.  We are receiving letters from thousands of children and youth, from all around the country.  Letters have come from children whose parents have been deported, from others who live in fear that this could happen to them, and from others who are learning about these issues for the first time and are outraged at the injustice.
Our children speak from a place of profound love and from a deep sense of justice.  Their letters are heartbreaking, eloquent, powerful and hopeful.  We hope that you will help us make the wish stronger by encouraging your children to lend their voices.
Visit www.WeBelongTogether.org/wish for background materials, activity guides, and instructions on how to participate in this important project.
There's no time to waste!  Letters should be mailed by November 30th, or uploaded by December 5th.  In mid-December, a youth delegation will deliver thousands of letters to members of Congress on both sides of the aisle.
Please join us as we lift up our children's collective voice for fairness, for love, and for the right of all of our families to be together.