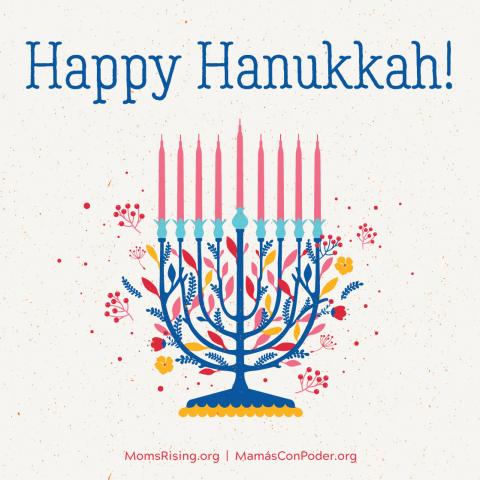 Our Favorite Hanukkah Books
This week, Jewish families around the world are celebrating the holiday of Hanukkah. Hanukkah is an eight-night "festival of light" that celebrates the the miracle of the Jews, led by the Maccabees, defeating one of the mightiest armies on earth, the Greeks, against all odds. Many families light a menorah (adding a candle each night), play games with a dreidel, eat foods made with oil (latkes and sufganiyot!), and spend time with loved ones.
When I was growing up there weren't a ton of Hanukkah books available. They were fairly basic, mostly about latkes or Maccabees. But all that has changed recently. There are now more books than ever available for us to read to our little ones about the story, celebration, history, and fun that is Hanukkah.
My nieces celebrate Hanukkah and Christmas and one of their favorite books is Light the Lights! by Margaret Moorman, which tells the story of a little girl named Emma who celebrates both holiday, just like so many kids in America now.
My friend Lauren Ranalli just wrote a book called The Great Latke Cook Off about family tradition, competition, and of course latke recipes.
The Jewish Book Council just released a list of favorite Hanukkah books for kids of all ages (including The Hanukkah Hamster, which I can't wait to get my hands on!).
MomsRising staff have their own favorite Hanukkah books as well. Check them out:
Ruby Sinreich, MomsRising Web Developer and Senior Technologist:
When my son was younger I was often invited to his preschool class to help teach the kids about Hanukkah. Along with my menorah and dreidel show and discussion of how humans from many cultures have observed and celebrated the winter solstice, I loved to read How Do Dinosaurs Say Happy Chanukah?
This book has beautiful, semi-realistic illustrations of dinosaurs behaving badly at first (blowing out the candles on the menorah, being rude to family, stealing gelt and dreidels) but then they correct their behavior and act like good dinosaurs. It's very playful and a fun read for little kids.
As my son has gotten older he can now join me appreciating Lemony Snicket's humor in The Latke Who Couldn't Stop Screaming. This story of a Hanukkah potato pancake getting fed up with people who only seem to understand Christmas is quite relatable for me! Fortunately, I am able to not scream about it, and I don't have to try to escape an unpleasant fate in a frying pan.
Also popular in our house is The Shortest Day which teaches about the winter solstice and shows how cultures from across world have learned about and celebrated the returning of the light throughout human history. It's a great way to bring friends together in a celebration of our universal human experience of the earth's tilt away from the sun.
Jessica Burroughs, North Carolina Hunger and Food Insecurity Campaign Director  
When my boys were younger, I gave Hanukkah presentations in their elementary school classes (once, when I was in the school cafeteria during a different time of year, a student ran up to me, gave me a hug, and told her friends that I was the Hanukkah lady!).  I often read stories along with playing dreidel and lighting the menorah. One of the kids' favorite stories was The Chanukkah Guest, by Eric Kimmel.  This funny story stars an older, hard-of-seeing woman, called "Bubbe," who mistakes a bear for her rabbi. The story always got a lot of laughs while also teaching that Hanukkah is about welcoming in others and being generous about what we have.  
When my son was in the first grade, I read Nine Spoons: A Chanukah Story, by Marci Stillerman, to his class.  This story tells of a miracle that happened on Hanukkah to a Jewish man in a concentration camp. After I read the story, the first grade teacher's assistant was moved to share her own story about her recent homelessness. She shared that she and her young daughters had spent months living in their car, and taking showers whenever people were kind enough to offer. She then told the class about her miracle of finding an affordable, safe place to live.  After her story, other students in the class shared their personal miracles.
Also by Eric Kimmel, and a favorite of my sons, is Herschel and the Hanukkah Goblins.  But I will warn you that it is a little scary-- my youngest son could not look at the pictures until he was in the third grade! So please look at the book first before reading it to your kids.  Once they get into it though, they might find it as gripping and suspenseful as we did!
We would love to know what some of your favorite Hanukkah books are. Please share your recommendations for all ages in the comments section!