One of 2013's best kept secrets in breastfeeding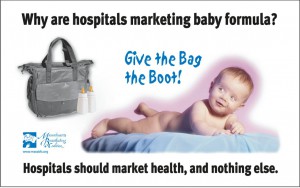 Massachusetts hospitals banned formula company discharge bags
Last year, we saw important advancements in creating the cultural shift needed for families to establish and maintain breastfeeding. In 2013, there was greater visibility of the "Break Time for Nursing Mothers" law and a spotlight on coverage for breast pumps and lactation support under the Affordable Care Act. With the building momentum for paid family leave through the FAMILY Act, we are stepping into 2014 with strong determination.
One of 2013's best kept secret breastfeeding wins, was the announcement that "the vast majority of 47 top-ranked hospitals have ended infant formula marketing." A study released by the Public Citizen and the Ban the Bags campaign found that most of the leading hospitals in the country have banned the most pervasive form of infant formula marketing - formula company-sponsored discharge bags. Public Citizen's statement says:
There is overwhelming agreement by major healthcare provider organizations that distributing discharge bags sends the wrong message to mothers that hospitals endorse formula feeding. Healthcare professionals agree that instead of using formula, breastfeeding exclusively for the first six months after a child is born has numerous short- and long-term health benefits for both babies and mothers.
Research shows hospital-issued formula samples undermine breastfeeding; when the samples are issued, there is a significant reduction in duration and exclusivity of breastfeeding. This is why the former Surgeon General called for greater enforcement of the World Health Organization International (WHO) International Code (also referred to as the WHO Code) back in 2011. That scores of new families will not be marketed with breastmilk substitutes during a particularly tender and vulnerable times is a great win for families and breastfeeding advocates.
Check out this link for the full post from the Public Citizen and Ban the Bags campaign.
Here's to 2014!