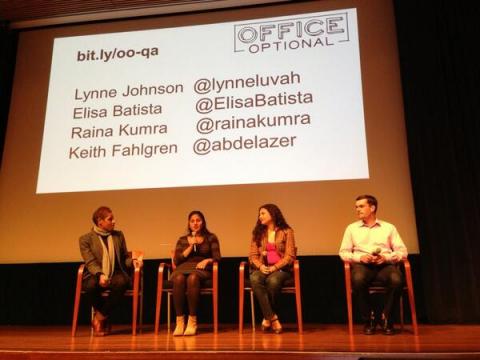 Once You Work from Home, There's No Going Back
SAN FRANCISCO, Calif. -- Yesterday was one of those moments, in which I felt my life come full circle. Almost 11 years ago, I left a reporting job in San Francisco to be home with my newborn son…and to be on the lookout for a job that I could do from home.
I freelanced for a while, then started a blog, and did contract work for non-profit organizations. It all led to my current full-time position at MomsRising — which I do from home. Every day, I log in at about 7:30 a.m., drop off the kids at school at 8 a.m., put in about six hours of work, including meetings over the phone and ginormous piles of e-mail, pick up the kids at 3 p.m., give them a snack, make dinner, and put in the last two hours in the evening.
I have my routine down pat, and it's something that I shared with a packed room at the Office Optional Conference in San Francisco. While I was there to sing the praises of working from home, I also offered these lessons learned:
• It is important to carve out at least two hours a day for uninterrupted work. When you don't have face time, you tend to make up for it in e-mail. A lot of e-mail. When I first started at MomsRising, I felt the need to respond promptly to every single piece of e-mail that hit my inbox. I quickly learned that it is okay to let people wait a day so that I could actually finish the project that I had promised.
• Balance is still important in virtual work. See example No. 1. Also, when there is no division between work and home space, it is very easy to go over 40 hours a week. Yes, I was the jerk that sent an e-mail on Easter Sunday. Oy!
I am lucky in that our organization is 100 percent virtual. But apparently there could be tension in a company between at-home workers or contractors and those who must commute every day. The at-home workers may feel left out or not taken as seriously for not going into the office very day.
Overall, I wouldn't change my set-up at all. Yes, I am always in my pajamas, always on my computer and snack too much working out of my kitchen. But the time and money I have saved not having a commute — and most importantly, the flexibility to be with my children — I can't imagine a better set-up.
What is your work set-up? For those of you who work from home, I am curious how you divide home and work life — and keep yourself honest about it!