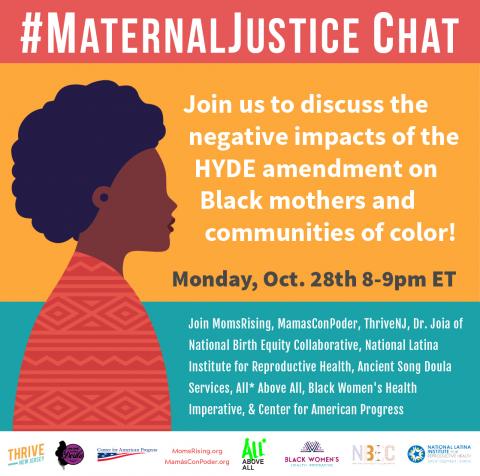 October #MaternalJustice Tweetchat!
On Monday, October 28th at 8pm EST, join our #MaternalJustice tweetchat where we'll discuss why and how the HYDE amendment negatively impacts Black mothers and communities of color. A national survey, conducted by All* Above All and conducted by Hart Research Associates found that, "African American women (68%), Hispanic women (67%) and women ages 18 to 34 (67%) are among those most likely to say the country is off on the wrong track when it comes to abortion and nationally, 62% of voters favor Medicaid coverage of abortion services, compared to 38% who oppose it, a 24-point margin. The proportion of voters who STRONGLY favor Medicaid coverage of abortion services has increased 7-points since 2017 (from 31% to 38%)". This tweetchat will serve as a chance to learn more about alternatives to HYDE like the EACH Woman Act and how it will implement evidence-based, trauma-informed, culturally-competent standards of health care. 
Looking forward to seeing you there! Don't forget to follow the #MaternalJustice hashtag.  
Thank you to our partner organizations for joining us: All* Above All, Black Women's Health Imperative, National Latina Institute for Reproductive Health, Ancient Song Doula Services, Center for American Progress, Thrive NJ and the National Birth Equity Collaborative!