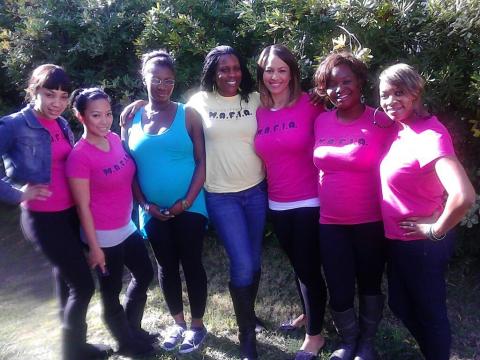 Oakland's Breastfeeding MAFIA is for support and encouragement
Tell us about Breastfeeding MAFIA and how it began.
The Breastfeeding M.A.F.I.A (Mothers Against Feeding Infants Artificially) is an organization that was developed in 2008 by a small group of Black peer counselors, Brandi Gates, Allana Samuel, and Djuna Blackmon, looking for a way to provide support and social outlets for exclusively breastfeeding moms without having to deal with the sabotage and politics of our social atmosphere.
The Breastfeeding M.A.F.I.A's goal is to encourage, promote, and support pregnant and lactating women of color who chose to exclusively breastfeed their babies for the first year of life and beyond. We help mothers make an educated infant feeding choice based on the most recent research that supports the benefits of breastfeeding exclusively for the first year. We also inform them of the disadvantages of artificial milk feeding and the benefits and preventative effects breastmilk has on the lifelong illnesses that children of color are at higher risk to develop, such as asthma, allergies, obesity, diabetes.
- Tell us about an experience you've had that conveys the importance of your work.
As the group developed, all three peer counselors attended University of California San Diego Extension Lactation Education program. At a lactation convention, we were encouraged to us our passion and training to increase the number of lactation consultants of color. In 2011, each of us passed the exam and became International Board Certified Lactation Consultants. Because of our own experiences, we are also dedicated to helping moms accomplish what we have: raise children who were all exclusively breastfed without roadblocks while increasing Black breastfeeding support and education in Alameda County.   
- What data do you use to show the importance of breastfeeding and the impact of your work?
Our work at Alameda County WIC increased the breastfeeding rates from 15% at the beginning of our career, to 35%+ at its highest. This lets us know that what we are contributing is important and effective. We have shown that it is possible to impact lives just by providing education, encouragement and support. We have also partnered with local high schools and health centers to create culturally appropriate breastfeeding mommy groups in underserved communities.  
- What is one thing the person reading this can do to support the Breastfeeding MAFIA?
Encourage an African-American woman to breastfeed. No matter what you may think, Black women need support and encouragement. They need to be told what happens to the Black community when Black babies aren't breastfeed. The health disparities are real and shocking, yet most Black families don't realize the impact infant formula is having on our health.
- What is an area of breastfeeding support that is being overlooked and what should be done about it?
The answer depends on what area of the country you live in. Breastfeeding support has been a political hot button that people seem to have forgotten is really about the mom and the baby. I think prenatal early education, hospital and clinical discharge support are the most overlooked areas in breastfeeding. The peer counselor and perinatal health workers should have access to more women so that women can get the education and the information they need to make the best decision when it comes to feeding their babies. If breastfeeding doesn't go as planned in the hospital the discharge care planning to the community clinics or the pediatrician's office would allow mothers to receive early problem management.
- What's your favorite breastfeeding resource (i.e., article, blog post, video, website)?
The Journal of Lactation, ILCA,  Black Women do Breastfeed and my lactation consultant friends and community breastfeeding advocates.
​​This post is part of the #BlkBFing Next Door: Local changemakers in the African-American breastfeeding movement shine for Black History Month. Read more posts here.