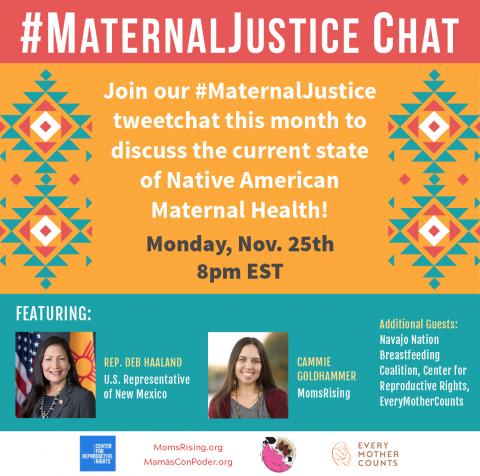 November #MaternalJustice Tweetchat: Native American Maternal Health
On Monday, November 25th at 8pm EST, we hosted our monthly #MaternalJustice tweetchat where we discussed the current state of Native American Maternal Health and the disparities that Native women face. A new analysis conducted by the Center for American Progress found that, "the experience of Native American women closely parallels that of African American women. An emerging community-centered and culturally relevant response is offering families hope amid staggering rates of maternal and infant mortality... The analysis, titled "American Indian and Alaska Native Maternal and Infant Mortality: Challenges and Opportunities," finds that official and ad hoc practices, including traditional Native concepts of community support, are playing a critical role in improving access to health-care services." Check out some of the highlights from the tweetchat below and follow #MaternalJustice on Twitter for more content like this! 
Thank you to Representative Deb Haaland, Camie Goldhammer and our partner organizations for joining us: Every Mother Counts, Center for Reproductive Rights, and the Navajo Nation Breastfeeding Coalition.