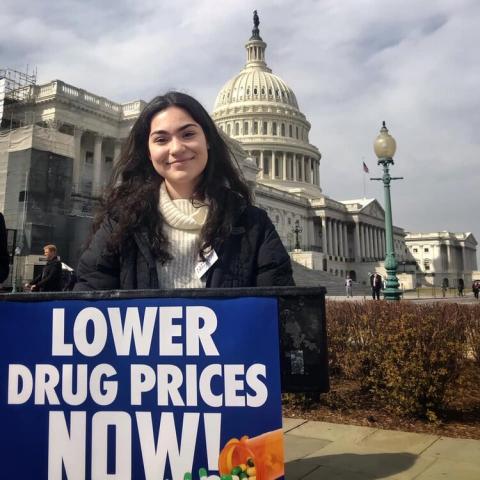 Novel Coronavirus Response Must Include Affordable, Equal Access to Treatment for ALL
Last week Little Lobbyists joined Senator Van Hollen, Representatives Schkowsky, DeLauro and Doggett, MomsRising and Lower Drug Prices Now for a press conference on Capitol Hill to demand that any vaccine or treatment developed for the novel coronavirus be affordable and accessible to ALL Americans. Little Lobbyists Yasmin Canales spoke; her speech is below:
My name is Yasmin Canales and I am member of Little Lobbyists, an organization who advocates for kids with complex medical needs and disabilities. I am a high school senior, just accepted into my top 2 choices for college. I love swimming, work as a lifeguard, and am a youth group leader with a passion for sharing my faith. I was also born with a genetic disease called Cystic Fibrosis, which affects all my organs, but especially my respiratory and digestive systems. Since birth, I have had over 30 hospitalizations for weeks at a time as well as 15 surgeries. I take 21 different medications, including over 35 pills daily, and 2-4 hours of intense respiratory therapies. 
The medicines I need to stay alive cost over $23,000 for one month. Many of these drugs are so expensive because the companies that make them have a monopoly, allowing them to set prices as high as they want. It is extremely frustrating to know our public tax dollars fund much of the research for these medicines, but we can't afford them because private pharmaceutical corporations are allowed to inflate prices to pad their profits. 
Regarding the outbreak of the novel coronavirus, COVID-19, the administration has said they won't promise a vaccine will be available or affordable for everyone, because pharmaceutical companies need to make money. But 27 million Americans are uninsured, 34 million working people have no paid sick days, and we are in contact with one another every day. Affordable, equal access to ALL for any treatment or vaccine for the novel coronavirus is of the utmost importance to me. My compromised immune system and my lowered lung function will not be able to fight off this novel virus, and I might die if access is denied to myself or those around me. When the virus spreads into my community, my life and the lives of people like myself and many other children with complex medical needs, is on the line.
The availability of a future vaccine or treatment for this global pandemic should not be in question. There is currently a provision in the Affordable Care Act mandating all federally recommended vaccines be provided at no cost. Public taxpayer funds have already gone into coronavirus research - we've already paid for it and we should be guaranteed affordable access. 
There are things more important than profits, like our health. I want to thank Senator Van Hollen and Representatives Schkowsky and Doggett for holding the Administration accountable by saying no monopoly for coronavirus drugs. The safety of every American, of every person we love, in the face of this global pandemic should be everyone's top priority - especially our government's.
***
This post was originally published at the blog of Little Lobbyists.