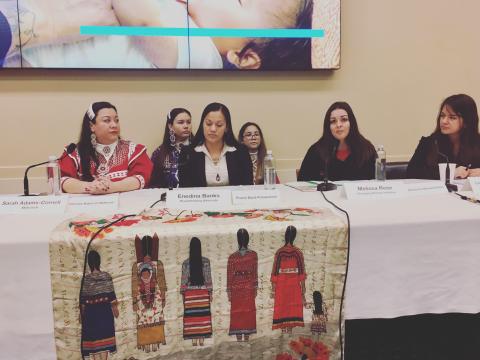 Notes from a Congressional Briefing on Native American Maternal Health
Last month, for perhaps the first time in history, a congressional briefing featuring indigenous women leaders discussing Native Americans and Maternal Health was held in the halls of Congress. This groundbreaking event was hosted by the Center for Reproductive Rights and the U.S. Human Rights Network, in cooperation with Representative Deb Haaland, one of two Native American women to be elected to Congress for the first time in U.S. History.
The United States has the highest maternal mortality ratio of all the world's wealthy countries, an issue that has garnered significant attention from members of Congress, even seeing the passing of The Preventing Maternal Deaths Act this past December. Yet even with this momentum, many of the advancements we've seen have only been the first step in addressing major disparities in maternal health outcomes. Native women are disproportionately impacted by the human rights crisis in U.S. maternal health, yet the needs of Native women have not been adequately addressed. This event was a step ftoward uplifting this issue on a national level.
Indigenous women leaders including Sarah Adams-Cornell, Co-founder of Matriarch; Breastfeeding Advocate Enedina Banks; Melissa Rose, Midwife at Changing Woman Initiative; Lauren van Schilfgaarde, Attorney at Tribal Law and Policy Institute; and moderator Rosalee Gonzalez, Executive Director of US Human Rights Network; shared their perspectives on the policy changes that are needed to improve maternal health and related reproductive rights issues in their communities, including addressing the epidemic of missing and murdered indigenous women, barriers to accessing health care, and funding for community-centered healing solutions.
Sarah from Matriarch spoke of the importance of funding community-led organizations that are already doing the work in communities and uplifted the impacts of domestic violence, sexual assault and the ongoing trauma of missing and murdered indigenous women on maternal health. The stress of violence and the lack of a remedy addressing it places undue pressure and trauma on women and their bodies, something that is be carried for generations. 
Enedina Banks, a breastfeeding advocate for native communities, and a Native American woman herself, brought the story and spirit of her mother into the room. She shared how her mother had her firstborn child taken away by the state, as had so many Native mothers. It was devastation she never recovered from. Enedina spoke of the violence her mother endured, both from those she knew intimately and from the U.S. government systems. Her mother's story illustrated the critical importance of the intersections of maternal health work, not only during pregnancy and birth but also when it comes to addressing systemic, institutional and societal oppressions that native communities face. Enedina also spoke of how women in her community travel long distances for health services, often facing racism and implicit bias. She pointed to prioritizing wellness as one key component to having optimal health outcomes for her community. 
Lawyer Lauren Van Shilfegaarde spoke of how actions like government shutdowns have a disproportionate impact on Native American communities, due to the shutdown of the Department of the Interior, which has Native American reservations under its auspices.  Native women die because they are dependent on this funding. Other concerns she raised included fending off attacks on the Indian Child & Welfare Act, supporting paid family leave, and ensuring that Native Americans giving birth have more options to access doulas and midwives. Specifically, there needs to be support for doulas who come from the community. Native American midwives need to be resourced because the support they provide is more expansive and culturally specific than typical midwives.
Melissa Rose, a Native American midwife, spoke of the importance of informed consent (permission granted in the knowledge of the possible consequences, typically that which is given by a patient to a doctor for treatment with full knowledge of the possible risks and benefits) and highlighted the issue of midwives not being integrated into healthcare system like they should be and the need to support direct-entry midwives. She also spoke of the complexities of the Indian Health Service (IHS) system, IHS can often be a barrier to prenatal care, for example, the wait is 6-8 weeks to even get a first pregnancy appointment. The remedy is to have community-based providers and an improvement in Medicaid reimbursement, which currently is so low that there is no incentive for insurance to care for the Native American population. Melissa also spoke about the importance of reproductive justice, including repealing the Hyde Amendment, few to no IHS facilities provide abortion services, for example. She also spoke on the importance of ensuring that the Native Youth and Tribal Protections Act be renewed. She called for policy relating to Native American communities, such as IHS policies, be revised, and the need for there to be protection from shutdowns and sequestrations. 
According to the Center for American Progress, American Indian and Alaska Native adults are almost twice as likely as non-Hispanic white adults to experience psychological distress. Additionally, more than one in four Native Americans live in poverty. American Indian and Alaska Native mothers were 4.5 times more likely to die from pregnancy and childbirth-related causes than non-Hispanic white mothers and nationally, American Indian and Alaska Native infants are nearly twice as likely to die by their first birthday as non-Hispanic white infants.
These heartbreaking statistics are indicative of long-standing trauma imposed upon Native communities by the U.S. government, and a lack of the support needed for communities to thrive. Policy changes to address the maternal health issues we are seeing must be prioritized, and it is important to listen to the voices and expertise of advocates who know their communities and who have lived experiences. Any solution must incorporate their wisdom and expertise because solutions do not only consist of new policy actions but also include dismantling systemic oppression that led to many of these issues in the first place. May this briefing be one of many events and spaces that will bring the stories of native communities, and the wisdom of their advocates to the forefront of policy change and implementation.