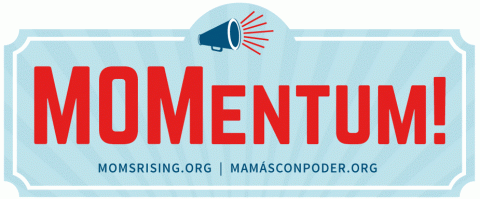 Not a Trick! Your October MOMentum Has Been a TREAT!
How your donation is making a difference
The MOMentum you created in October was scary good — and it's still going! Your generosity is helping us mobilize women, moms, and the people who love them to get out the vote across the nation, to stand up for maternal justice, and so much more.
Thank you for being such an important part of this MomsRising community!
P.S. We love your feedback and comments. Send them to anita@momsrising.org. Thank you!
---
VOTER POSTCARDS UNLEASHED!
MomsRising volunteers across the country are writing over 100,000 postcards of encouragement to busy voters to help increase the number of voters this election. Celebrate voting with us online using the #CantWait2Vote hashtag on Instagram and Twitter! Thanks to the generous donations of MomsRising members like you, we were able to send beautiful postcards with handwritten notes encouraging voting to hundreds of thousands of voters who need a friendly nudge. Research shows that personal notes like this have a tremendous impact in getting an infrequent voter to cast their vote. Thank you!
---
RISING FOR MATERNAL JUSTICE
It's unacceptable that the United States has the worst maternal death rate of any developed nation, with Black women dying at 3-4 times the rates of white women. Supported by your donations, MomsRising/MamásConPoder hosted an important tweetchat on legislation that can impact our nation's maternal health crisis with Sen. Cory Booker, Sen. Kirsten Gillibrand, Rep. Joe Kennedy and organizations leading efforts to save the lives of mothers and pregnant women.
We're incredibly grateful for your support of this lifesaving work.
---
| | |
| --- | --- |
| | MEDIA SPOTLIGHT |
Female rage is all the rage. But how can we harness it to help mothers?
Oct 11, 2018, Washington Post
"When mothers look up from their daily lives and see that when this many people are having the same struggles at the same time, that means we have a national structural issue that we can fix together, and not an epidemic of personal failings," says Kristin Rowe-Finkbeiner, author of 'Keep Marching: How Every Woman Can Take Action and Change Our World' and chief executive of MomsRising, an online organization mobilizing families for policy change."
---
| | |
| --- | --- |
| | MEMBER LOVE |
Members share how MomsRising is a positive force in their lives
"MomsRising never gives up. And even when I feel despair, the MomsRising team is always at the ready with a way for us to act, to fight for what's better for families, and to feel like there's always a way to do better. I thank you for that."
– Mary Beth, volunteer and donor
"Your org is awesome! My team at work is always looking for ways to give back that we can do as a group, from the office — the voting postcards seem pretty absolutely perfect! We could do hundreds...Thank you!"
– Lindsay, volunteer
Tell us, what does MomsRising means to you? Send your comments to anita@momsrising.org.
---
| | |
| --- | --- |
| | Coming Soon |
Nov. 1 | Nationwide, #CantWait2Vote tweetstorm at 3 p.m. ET/ Noon P.T.
Please go to twitter.com or your Twitter app on your phone and join MomsRising, MamásconPoder, and numerous national organizations for a tweetstorm to share resources and information, as well as our photos, videos, and comments on why we #CantWait2Vote!
Nov. 6 | Nationwide, Election Day!
Make a plan to VOTE ⇒ Go to https://www.momsrising.org/momsvote/ for ideas and resources that will get you ready to vote!