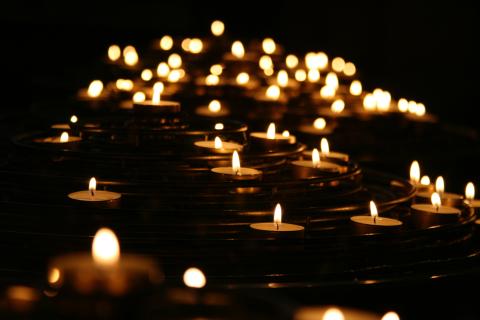 North Carolina Vigils Call for Action to Reduce Gun Violence
On April 24 at 7:30 pm, gun violence prevention vigils took place simultaneously in multiple cities across North Carolina.  They were hosted by the NC Gun Violence Prevention Coalition, which includes North Carolinians Against Gun Violence, North Carolina Council of Churches, Raleigh-Apex NAACP, MomsRising, Moms Demand Action, Giffords Law Center, and A Better Chance, A Better Community. 
The vigils were designed to call attention to the impact of gun violence upon all of our communities. We gathered over the Earth Day weekend in Fayetteville, Charlotte, Raleigh and Durham to highlight that gun violence is an environmental justice issue. Those of us who grow up, live, and work in the midst of gun violence understand that these environments have an enormous impact on people's health and wellbeing.  Gun violence affects all of us - urban, suburban, rural, rich, poor, young, and old, although it disproportionately impacts some communities, especially communities of color.
 
During the vigils we called upon our local, state and national leaders to promote policies and legislation that will reduce the impact of gun violence upon all of our communities. We urged unqualified support of expanded background checks and essential legislation endorsed by an overwhelming majority of Americans. Finally, we pledged to make a difference by remembering those who have been lost and committed ourselves to helping our communities work for gun violence prevention.