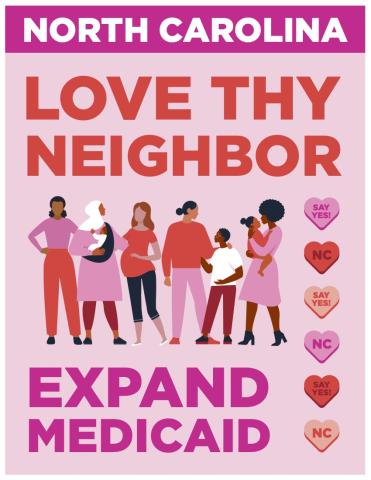 North Carolina: Love Thy Neighbor, Expand Medicaid
Last week, the NC House passed HB76 to expand Medicaid to low-income, uninsured adults in North Carolina. After a decade of advocacy and stalemate, North Carolina is getting close to closing the Medicaid coverage gap! MomsRising created a cross-organization storybook to lift up the voices of uninsured North Carolinians through the Health Action NC Coalition to share with NC legislators.
Elena from Franklinville shared, "My sister and I are both uninsured. I have spent the last 2 years staying home and caring for our mom. My sister's job doesn't provide insurance, and it doesn't pay enough for her to afford to buy her own."
Anna from Hope Mills shared, "I am the single mother of a sweet little boy. I am home health aid I make minimum wage. My son's father does not pay one dime in child support. So everything is left up to me to pay for when comes to my child. I am 38 years old and I am diabetic. My son has Medicaid but I don't qualify for Medicaid. Here is my question: I can't afford to go to the doctor and get my diabetic medication. But what is going to happen to my son if something happens to me because I can't afford to get medicine or see a doctor? The reason I don't qualify is because I get up everyday and go to work to show my son that if you don't work you will never have anything. I am not asking for any handouts. I'm willing to pay way. But I do not make enough for extra doctor's bills and medications each month. I have went to dept of Socal sevices and was told I make too much money."
Read more stories from uninsured North Carolinians in our "Love Thy Neighbor: Expand Medicaid" storybook.