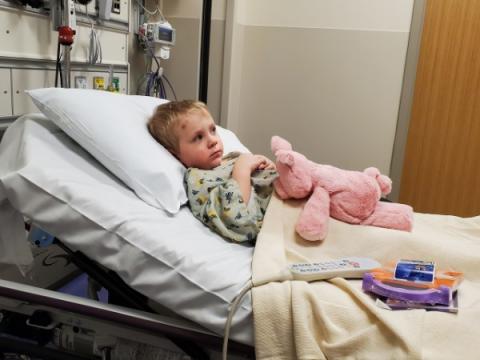 No parent should ever have the burden of worrying if they can afford to keep their child alive.
MomsRising collects stories from our members all across the U.S. about how health policies are impacting families. Here is a powerful story about the need to rein in the cost of life-saving prescription medicines and to make sure everyone has access to quality, affordable health care from a MomsRising volunteer, Katrina, in Illinois:
----
My son was diagnosed with a rare condition called Idiopathic thrombocytopenic purpura (ITP). An ordinary virus set off his immune system and now he struggles to make platelets on his own. He was initially treated with steroids, which is a hard treatment on a three year old boy. While it did wonders at high dosages, he stopped responding once the attempt to wean him off went into place. His hematologist suggested an experimental drug option called promacta, available only through a specialty pharmacy. We had to go for it for the sake of our son. His insurance approved it, thank goodness. However, his insurance had to change July 1st and when it came time to get his refill, they refused to cover the prescription. This medication costs $10,000 a month. 
We fought tooth and nail with the insurance company. Our precious little boy couldn't afford to go without the medication we can't afford. His platelet counts kept dropping. Because his diagnosis was only six months old, it wasn't good enough for acceptance. They wouldn't cover it until he had been in other treatments for a year. They didn't want to try to help my son see if he could beat this condition sooner. They were okay with letting a three year old remain on ineffective steroids for a year. 
 

Fortunately, his doctor won the insurance battle for us and his prescription is approved for a year. The back and forth took nearly a month, all of which he hadn't been medicated. His progress had been lost, and then some, putting him at risk of serious hemorrhaging or a brain bleed if even the slightest bump occurred. His numbers increased significantly in just one week of being back on the medication, putting us all at ease. 
 
No one should ever have to worry if they can afford to be healthy. No parent should ever have the burden of worrying if they can afford to keep their child alive. We are all lucky to be alive, but that doesn't mean it's a privilege or luxury. Proper healthcare and prescription coverage should be a right afforded to everyone.
----
Does your family have a health care story? Personal experiences are powerful and can make a HUGE difference in helping elected leaders and others understand how health care policies impact families. Have you or a family member:
Struggled to afford prescription medicines, treatments, or supplies?
Had COVID-19 (coronavirus) and had to receive treatment?
Had a 'pre-existing condition' like asthma, diabetes, or high blood pressure (or even a c-section)?
Gotten health insurance coverage through your state's Marketplace or Medicaid program?
Had an illness or disability that requires expensive prescription drugs or frequent medical visits, treatments, or surgeries?
Experienced discriminatory behavior from a medical professional?
Received a surprise medical bill after receiving medical treatment?