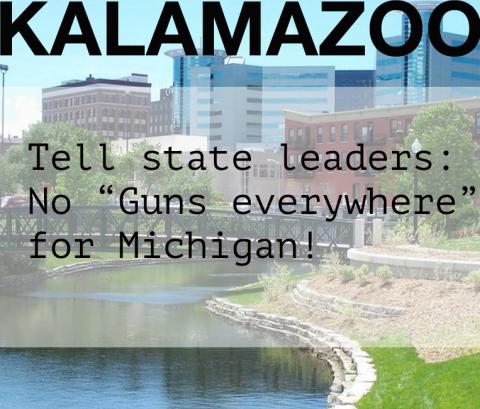 No "Guns Everywhere" for Michigan After Kalamazoo
I spent last week studying the corporate gun lobby's "guns everywhere" legislation making its way through the Michigan State House, trying to make sense of bills that seem devoid of commonsense. It was with these proposed "guns everywhere" bills fresh on my mind that I watched the tragic Kalamazoo shootings unfold with sadness and horror.
It's beyond horrifying.
Over a six-hour period, a gunman critically injured a mother standing in an apartment complex parking lot with her three children; killed a man and his 18-year-old son visiting a car dealership; and killed four women and gravely injured a 14-year-old girl in front of a Cracker Barrel restaurant.
I'm heartbroken for the victims' families -- and also more convinced than ever that "guns everywhere" is a terrible idea for us here in Michigan. Will you help me tell our state lawmakers to stand up for community safety?
The Kalamazoo deaths add to a gun toll in our state that already surpasses traffic deaths. Between 2008 and 2013, Michigan averaged 927 traffic fatalities a year while an average of 1,121 people died annually from gun injuries.
This devastation has got to stop. Yet, despite tragedies like we're seeing in Kalamazoo, there are efforts to expand access to guns and the public spaces where guns can freely circulate. One particularly bad idea now moving quickly through the Michigan State House is to open the way for people to bring their weapons into schools, colleges and universities, houses of worship, sports arenas, bars and other places where the concealed carrying of guns is now banned. Another unsafe proposal in the works is to completely do away with permits for gun owners who want to conceal carry – what is known as "permitless carry."
Such unsafe gun bills now moving through the Michigan Legislature are dangerous and irresponsible. Tell state lawmakers that "guns everywhere" is a terrible, terrible idea. It's flat out unsafe:
http://action.momsrising.org/letter/NoGunsEverywhere4MI/
While so far there's no indication that the Kalamazoo shooter had broken any laws acquiring his murder weapon, this tragedy shows why gun safety and community safety are one and the same. In times like these, we shouldn't be increasing the areas where people can bring guns; instead we should be increasing community safety. The mass shooter in Kalamazoo clearly was a ticking time bomb, living in our state, which increasingly encourages and facilitates gun ownership and guns everywhere. It's time to focus on community safety.
Guns do NOT belong everywhere.
Together, we must fight and be a strong voice for safer Michigan families and communities.