Newtown Action Alliance Honors Our Victims by Demanding Change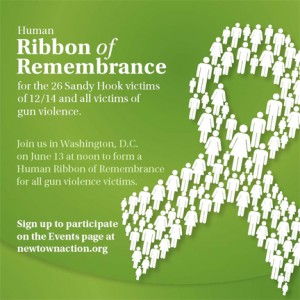 Newtown is mostly quiet again now, especially in the tiny business center of Sandy Hook - just around the corner from the site where our shuttered elementary school still stands. You can't see Sandy Hook School from the road, and the driveway remains closed and guarded. But people all around our country and even the world understand the significance of this site, and feel a reverberation of the events that took place there on December 14th, 2012. The terrifying mass murder of innocents was carried out within minutes but will be felt for decades. It left the people of Newtown and beyond reeling from shock and laid low by grief. It also woke us up to the ease with which murder by guns is carried out in our country, the decades of legislative neglect that led to this event, and the epidemic of gun violence that devastates Americans of all demographics in this country every day.
It has been six months since the shooting that took 20 of our beautiful first-graders, six of our courageous educators, and a whole community's sense of security away from us. During that time, American citizens have spoken up in huge numbers and demanded that our government take action to keep us safer. But sadly, Congress has failed to pass any legislation that would reduce gun violence. Despite overwhelming support from the public, our legislators chose not to mandate universal background checks, which would prevent the legal sale of guns to felons, domestic abusers and anyone who chooses to purchase arms through a private sale. In the meantime, more Americans have died by guns in this time than perished in the Iraq war.
This coming week, Newtown Action Alliance will host a major event to commemorate the six-month anniversary of the Sandy Hook shooting and tell Congress that it's time to take action.  Our members and supporters will travel to Washington D.C. on Wednesday, June 12th to deliver a letter to legislators, signed by various gun violence prevention groups, demanding that Congress vote on and pass a bill on universal background checks. We will also distribute a comprehensive list of gun violence victims since 12/14/12.
On June 13th, Newtown Action Alliance will host an all-day event in Washington, D.C. At 9 a.m., we launch a "thunderclap" campaign over facebook and twitter which will bombard our legislators with messages demanding action. To join, please sign up at: https://www.thunderclap.it/projects/2315-six-months-and-no-action/
Also at 9 a.m., we will take part in the "No More Names" (nomorenames.org) campaign, led by Jillian Soto (whose sister, Vicki died while trying to protect her students) as she reads the names of the 26 Sandy Hook victims. Immediately after, we will form a giant human green-and-white ribbon on the mall to honor the victims' lives and bring attention to the need for substantive legislation (www.facebook.com/events/165600736950028/). This will be followed by a moment of silence.
In order to maximize the impact of this two-day event and the powerful message it conveys, we are asking those in favor of safer gun laws to join with us by signing up for the thunderclap, promoting it on facebook, twitter and by word-of-mouth, and calling and emailing members of congress to demand universal background checks. Additional information and suggestions can be found at our website: newtownaction.org.
Many people in Newtown say that it's hard to believe it's been only six months since the shooting, and yet it can also feel like time is moving more slowly since that day. We have learned that the steady campaign to protect Americans from gun violence has been patiently toiling for years and is finally receiving widespread support from the public. It's time now for us all to do our part, however small, to remember what happened in Newtown and channel our inspiration to help protect every child, teacher and citizen of this country from being the next victim of gun violence. Please join us.
With gratitude,
This post is part of the project, "Sorrow, Anger, ACTION! - A Gathering of Voices Against Gun Violence," organized by MomsRising, PICO Network, UltraViolet, Children's Defense Fund and the National Network to End Domestic Violence.