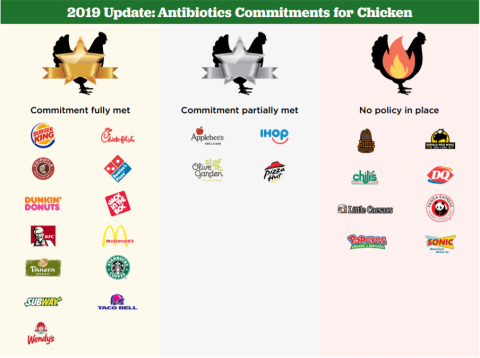 News You Can Use: Restaurant Guide Tracking Antibiotic Use
When your relatives live five states over, why shell out for airfare when you can cram the whole crew in the van and hop on the interstate instead? At least that was my family's thinking. As a child, these holiday road trips were the only times I ever ate fast food because it was the quickest and cheapest option on the road. But consumers are usually in the dark when it comes to how these fast food companies source their meat. That's where the Chain Reaction report comes in handy. It grades the top fast food chains on whether they serve meat raised without routine antibiotic use.
Over the past 75 years or so, antibiotics have turned once-deadly infections into little more than common nuisances. They've transformed medicine and keep animals and humans healthy. But these drugs that now form the bedrock of our modern medical system are losing their effectiveness due to rampant overuse.
Without effective antibiotics, we would revert to a bygone era where small scratches could lead to potentially deadly infections. This past week, the Centers for Disease Control and Prevention released a report estimating that antibiotic-resistant superbugs kill more than 35,000 Americans every year. Many experts decry that figure as being far too conservative, with some figures showing that by 2050, if antibiotic overuse is not reined in, annual deaths as a result of drug-resistant infections could top 10 million around the globe. That's more people than cancer kills per year today.
Industrial farms fuel the problem by overusing antibiotics to produce meat. Major meat producers discovered they can produce more, slightly cheaper meat by jam-packing livestock into cramped spaces, cutting corners on hygiene, and feeding them inappropriate diets to fatten them up quickly. By doing so, farmers create an environment that is highly conducive to the growth and spread of infectious disease. To counteract this, meat producers often take the easy route, using antibiotics routinely to keep animals from getting sick. Meat producers purchase two-thirds of the medically important antibiotics sold in this country, and beef producers purchase 42 percent of all the drugs sold to the meat industry.
When bacteria are routinely exposed to antibiotics, they develop a resistance to the drugs. Those resistant bacteria can eventually spread off farms through environmental factors, such as wind and water, undercooked and contaminated meat or via contact with the animals themselves. These bacteria can cause illnesses that existing drugs can't effectively treat, making them dangerous or even deadly when they spread to humans. To make matters worse, pharmaceutical companies have little interest in investing in research and development for newer, stronger antibiotics, since they're not very profitable.
So the next time you're cruising down the interstate and you pass a sign that says "EXIT 63 FOOD" have your copilot pull up the Chain Reaction V scorecard to check which restaurants passed the test before you choose where to eat. This year's report graded top chains on their policies regarding antibiotic use in their beef supply, along with their overall scores for all meat served. The report is a joint project between U.S. PIRG, the Food Animal Concerns Trust, Consumer Reports, the Natural Resources Defense Council, Center for Food Safety, and the Antibiotic Resistance Action Center at the George Washington University Milken Institute School of Public Health.
Fifteen of the companies surveyed this year received an 'F' for having no established policy to protect antibiotics from overuse in their beef supply chain. That includes the well-known pizza joints Domino's, Pizza Hut and Little Caesars, as well as classic American hamburger chains including Jack in the Box and Burger King.
You may be wondering, with all the 'F's, which restaurants are committed to sourcing beef raised without routine antibiotic use? The runners-up include Wendy's, who scored a 'D+', and Taco Bell, who received a 'D'. These grades represent a far cry from the action we need to see, but they are a step in the right direction.
Moving up the scorecard we come to McDonald's, who got a 'C' for taking steps to stop overusing antibiotics in its beef supply. In 2018, McDonald's committed to researching and implementing a policy that would reduce antibiotic use throughout much of its vast global beef supply. Its actions are not only a bold step forward in the name of public health, but a signal to those chains who lag behind that change is coming.
Chipotle and Panera Bread received the only two 'A' grades on beef. Two chains too small for the main survey, BurgerFi and Shake Shack, received the 'Best Burger' award for being among the first burger chains to phase out antibiotic overuse in their beef supply chains.
Although most chains fail on antibiotic overuse in their beef supply, several of them are already sourcing chicken raised without misusing the drugs. Thanks to consumer demand and the urgency of the problem, since the first Chain Reaction report came out in 2015, most major restaurants have changed or committed to change their sourcing practices for chicken. Last year, an industry estimate showed that 92 percent of the chickens produced in this country were raised without the routine use of medically important antibiotics, according to the Food and Drug Administration's definition. Major chains like KFC and Chick-fil-A are currently sourcing chicken raised without medically important antibiotics. The chart below shows where each restaurant lands on antibiotics practices for the chicken they buy.
As a consumer, you can use your next road trip meal to encourage better antibiotics practices. Visit chains doing the right thing, and call on those who lag behind on beef to act now.
Originally published at https://uspirg.org.