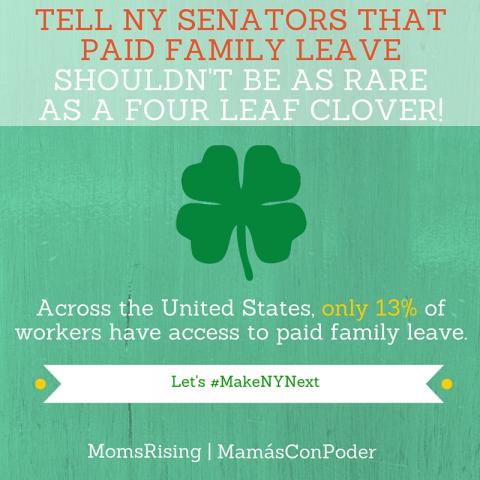 New Yorkers Shouldn't Have to Get 'Lucky' to Get Paid Leave
Access to paid family (maternity, paternity, medical) leave shouldn't be as rare as finding a four-leaf clover, but for too many New York families it feels that way.
New York Senators in Albany are considering paid family leave legislation right now. Take a moment to send a quick message to your Senator letting him/her know that New Yorkers support this protection for workers. 
Access to paid family leave is so important to our members like Erin who shared her story with us: "I only got to spend 9 weeks with my daughter before I was forced to return to work. I was 'lucky' to be able to take 12 weeks last year for my son. I pray that neither one of them, if and when they choose to have a family, have to worry about returning to work sooner than they like. You never get that time back with your children; this is something other countries around the world realize and it's time we fix it here as well."
Here's the scoop: Right now across the U.S., only 13% of working families have access to paid family (maternity, paternity, medical) leave via their employers. [1]
Having access to paid family leave to care for a loved one, take care of oneself or bond with a child, shouldn't be about luck. It's a basic protection for workers that's not just good for employees, but also employers! Studies show that paid leave improves employee retention and lowers employers' turnover costs, increases worker productivity, improves employee loyalty and morale, allows smaller businesses to compete with larger companies for the best talent, and heightens American businesses' competitiveness in a global economy. [2]
It can be done! California, New Jersey and Rhode Island have already passed similar legislation ensuring that their residents have access to paid family leave. [3]
Let's make New York next! Click here to send a quick message to let them know how important it is that they make paid family leave a reality!
We have the momentum but we can't take anything for granted! We need every MomsRising member to take action, and we need you to ask your New York friends and family to take action too. Share this link so they can take a moment to take action and keep the NY momentum growing!!!
Whether it's to care for a newborn you swear already smiles, a mom who is ill, or a spouse battling cancer, being there for family is what matters. You shouldn't have to give up a paycheck to do it.
Together, we won't leave New York families to the luck of the draw!
1. Bureau of Labor Statistics | 2. National Partnership for Women and Families: Paid Family and Medical Leave – Good for Business | 3. State Family and Medical Leave Laws