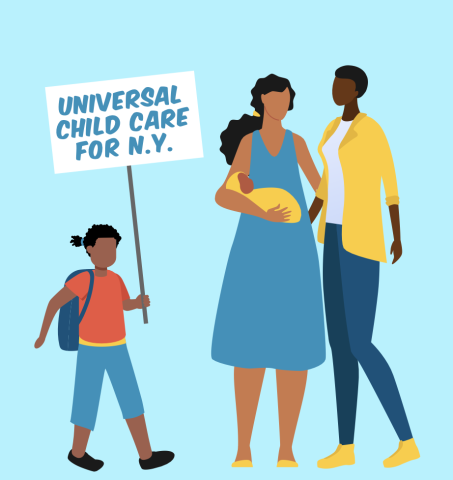 New York Parents: Join us for a Parent Power Hour on Child Care!
Having two kids here, I know all too well the struggles that parents face when it comes to child care in New York. All over the state, parents struggle to find child care that is affordable and available in their communities. In fact, according to the Center for American Progress, 64 percent of New York families live in a child care desert (defined as any census tract with more than 50 children under age 5 that contains either no child care providers or so few options that there are more than three times as many children as licensed child care slots). It's not only about availability: according to the Economic Policy Institute, New York ranks 6th out of 50 states and the District of Columbia for most expensive infant care.
As a parent with a 12 and six year old, I know all too well about the costs: when my children were smaller, the cost for child care between toddler care and afterschool care represented well over 30 percent of our take home pay. So many neighbors and friends have had to leave the workforce due to the lack of child care in our area-- these are the stories that lawmakers need to hear!
At MomsRising we know how important it is to ensure that parent voices are at the table when it comes to the policies that affect parents -- and we're partnering with the Empire State Campaign for Child Care to make sure that lawmakers know what parents across New York need; bringing parent experiences to policymakers is critically important! 
Join us to discuss this in a safe space where we will support each other and also learn about what's happening on the state level and federal level when it comes to child care advocacy... and how you can be an advocate for child care too! We'll be holding two Parent Power Hour listening sessions:
November 14, 2023 - 12pm -1pm ET 
December 4th, 2023 - 8-9 pm ET
REGISTER HERE for either session and please tell your friends in New York to join the conversation!  
If you're a parent or caregiver in New York state with kids 12 and under, we want to hear from you on your child care challenges (and joys!):
*Are you struggling or did you struggle to afford high-quality childcare? 
*Are you having trouble finding child care in your area?
*Are there long waitlists? 
*Did someone in your family have to quit their job because childcare was too expensive or not available? 
*Is lack of childcare impacting your mental or physical health?
*Do you/did you love your kid's childcare?
*Are you a care provider who isn't earning a livable wage?
*Did you leave the profession because of low wages?
*Did you/do you work in child care and find yourself unable to send your child to the same childcare because of the cost?
*Did you/did you have trouble finding a childcare program that works for your family?
                                                    We want to hear all of it! RSVP here! 
Sign up for any (or both) of our 2023 Parent Power Hour listening sessions:
November 14, 12pm -1pm ET 
December 5th, 2024 - 8-9 pm ET 
Prefer chatting in Spanish? RSVP to our Spanish language HORA PODEROSA here.  Share this post and spread the word!