Add your name!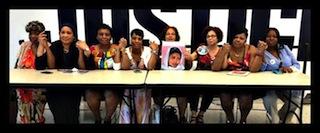 New York Moms Move Mountains!
Moms made history in New York last week.
After years and months of urging by a committed group of women, Governor Cuomo appointed a special prosecutor for police killing of civilians last week. No mother should have to fear losing a loved one at the hands of those charged with protecting them. And, amazingly, thanks to the power of a dozen moms whose families have suffered tremendous loss, New York is headed in a new direction starting now. These women, and the tens of thousands of women and men who backed them up, stood firm in their fight for all families, communities, and for justice.  
These mothers' unfailing commitment (and now success!) calls for a big THANK YOU! Please sign our thank you card to these amazing mothers for their historic work to help protect black and brown families in New York. 
By thanking the women who stood firm on this issue and fought many years for justice for New York families, we will not only let them know we appreciate all that they have done, but we will also signal to other families who may be leaders in the future, that their work will be valued.
Governor Cuomo kept his promise and signed an executive order for a special prosecutor for all police killings and deaths that occur in custody. It's hard to put into words the historical significance of this moment. His enactment of a special prosecutor is a step in the right direction and could play a significant role in making sure that police officers who abuse their power are held accountable. More importantly, this executive order doesn't have a pre-determined time limit and covers cases beyond just those reported by police as 'unarmed.' As a state, that to date, has convicted only one officer out of 179 cases of questionable police violence, the appointment of a special prosecutor without these limits brings us one step closer to ending discriminatory policing and anti-black violence. It's hard to put into words the historical significance of this moment.
This was no small feat! Add your thanks now so these incredible mothers and families will know how much we appreciate their strength and leadership.
Thanks to the mothers and families who have lost their sons, daughters, sisters, and nieces nieces, sisters, and daughters to police violence, we can finally take a concrete step toward real accountability and justice against brutal police violence. Even when it seemed impossible, they refused to give up. New Yorkers have fought for independent oversight for decades. And the last 6 months of this campaign brought together families from police brutality cases going back to 1994 all the way up to 2014 in an unprecedented push for an executive order that many people said could not be done.
We are incredibly inspired by the leadership of the mothers and families of Ramarley Graham, Anthony Baez, Sean Bell, Eric Garner, Shantel Davis, Alberta Spruill, Anthony Rosario, Hilton Vega, Mohamed Bah, Kimani Gray, Kenny Lazo, Jayson Tirado, and Amadou Diallo. Their remarkable display of solidarity and unwavering commitment is the kind of leadership we will need in order to continue the fight against systems and institutions of oppression.
We remain committed in our support to the families and local leadership in their fight to secure a safe and just state for all New Yorkers.