New York Babies Roll On City Hall
Last week, M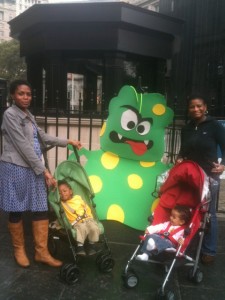 omsRising.org along with over a hundred New Yorkers rolled on City Hall for a stroller brigade in support of working parents and their children. In addition to our partners at A Better Balance, Community Service Society, Make the Road NY, Working Families NY, and ColorOfChange, moms and dads came from all over the city with babies in tow to deliver more than 50,000 petitions and a message to New York City Council Speaker Christine Quinn: Bring the paid sick days legislation to a vote!
Why were these babies and mamas fired up? There's a bill sitting in the New York City Council with 37 sponsors that would allow more than a millio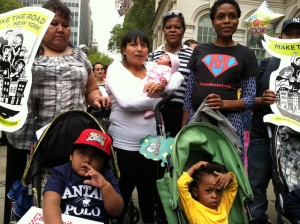 n New Yorkers to earn paid time off to use when they are sick or to take care of sick child, spouse or parent. We know we have the votes to move that bill and there is overwhelming public support for it but Speaker Quinn is holding it hostage.
Earned sick days make good public health policy. When people go to work sick or send their children to school sick, they spread germs and other people get sick. What's more, people who don't have earned sick days are more likely to be in jobs where they are in regular contact with other people, with children, with older adults or with food. Almost 90% of workers handling food, and 43% of workers in close contact with children and the elderly do not have paid sick time.
It's not hard to do the math there.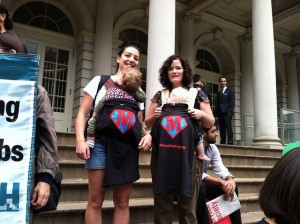 Earned sick days are good for the economy too! They would help to reduce health care costs, reduce the spread of contagion, protect people's jobs and financial security, and boost businesses' productivity. Seattle, San Francisco, and Connecticut have successfully enacted paid sick days policies. And in San Francisco, a recent survey has shown that paid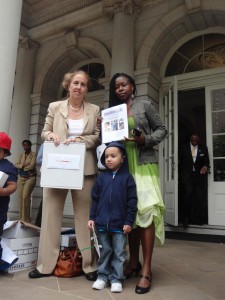 sick days have NOT had the negative consequences opponents feared, the policy was easier to implement than anticipated, and employees are not abusing the system - in fact, employees are taking less than half the days they have earned.
No worker should ever, ever have to choose between losing a day's pay and staying home to recuperate from illness or to care for a sick child. A majority of the New York City Council members recognize this and are prepared to vote to support earned sick days. Speaker Quinn's refusal to allow a vote on this bill is unfair to the more than a million New York workers, many of them moms, who have to face the impossible choice between their families' health and their jobs.
Join the call and sign today! http://action.momsrising.org/sign/NYC_paidsickdays/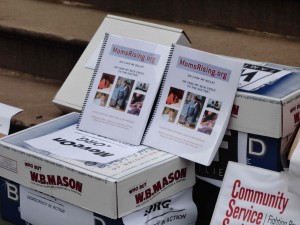 Check out all of the great coverage!!
NY 1 News : Working Parents Continue Push For Paid Sick Leave Legislation (Link to Video)

Working parents gathered at City Hall Thursday to continue their push to extend sick leave to employees citywide. They submitted 50,000 signatures asking the city to reopen a vote on the Paid Sick Time Act. The bill would force businesses to give a number of sick days to most of their workers.

Crain's New York (Chris Bragg): Business groups face sick-pay momentum
The leader of a coalition opposing city-mandated paid sick leave insists that business opposition is not softening, even as some members of her group speak of compromising and advocates' pressure to pass the measure mounts.
While business leaders' response to the proposed amendments has been somewhat disjointed, supporters have apparently been acting in concert.
In addition, the Community Service Society, which supports the measure, found in a poll that 83% of New Yorkers favor a bill mandating paid sick days, up nine percentage points from a year ago—an indication that proponents' campaign to build support is working. Democrats were more likely to support a mayoral candidate who backed paid sick leave by a margin of 10 to 1, the poll showed.
Politicker (Colin Campbell): Even Scott Stringer's 10-Month-Old Son Wants Christine Quinn to Allow a Vote on Paid Sick Days 

The event this afternoon, however, featured elected officials and child-carrying parents, or, in the case of Manhattan Borough President Scott Stringer and his son Max, both. And after the speeches finished, Mr. Stringer told Politicker the bill's proponents can count on Max's support."Max is a strong supporter of this legislation because every time he gets sick or he needs attention from his parents, he gets it," Mr. Stringer explained. "The reason he gets it is because we have a benefits package that allows for paid sick days, so I can take care of my son. Also, Elyse, my wife, can leave work without fear of getting fired. But think about it, there's 1.6 million people who don't have that same opportunity or ability."
NY1 The Call Blog: 50,000 New Yorkers Call For Paid Sick Leave
New Yorkers demanding paid sick leave delivered a petition with 50,000 signatures to Speaker Christine Quinn's office today. Organizers of the rally say more than a million New Yorkers don't get paid time off, including 65% of "working low-income public school parents."
Supporters of bill to make paid sick time mandatory say the measure would help ensure New Yorkers won't lose their jobs if they or their children get sick. Opponents worry about the adverse effects on small business owners who are already struggling. For months, Speaker Quinn has refused to allow the Council to vote on the bill.

Women E-News (Maggie Freleng): New Yorkers March to Support Paid Sick Leave

Dozens of New Yorkers marched on the steps of the City Council building Thursday, Oct. 4, urging passage of a bill, Intro 97, authorizing paid sick days for working New Yorkers.
"This is basically something that is long over-due," said Fekkak Mamdouh, co-director of Restaurant Opportunities Center of New York, an advocacy group for restaurant workers. "People going to work sick make co-workers sick, customers sick. "There is a vicious cycle that needs to end starting with the passing of this legislation."
Council Speaker Christine Quinn opposes the bill, citing potential strains on businesses, and has blocked a two-year effort to bring it to a vote.
More than 100 small businesses across the city support the bill.
Epoch Times (Kristen Meriwether):Quinn Under Pressure to Pass New York City Sick Leave Bill 
Pressure on New York City Council Speaker Christine Quinn continues to grow as her opposition to a paid sick leave bill is frustrating her fellow council members, advocacy groups, and families across the city.
According to supporters of the bill, Speaker Quinn is the only thing getting in the way of the Council putting it to a vote.
"I have never seen a bill that has been more debated, more documented, more scrutinized, with more supporters," Public Advocate Bill de Blasio said from the steps of City Hall Thursday. "Everyone has weighed in. How has this not been brought to the floor?"
NY Post (Sally Goldenberg): 'Sick day' activists target Quinn
A group pushing a controversial paid-sick-days bill will up the ante on City Council Speaker Christine Quinn today by trying to hand her petitions with 50,000 signatures supporting the measure.
~~Fired up? Join MomsRising now!