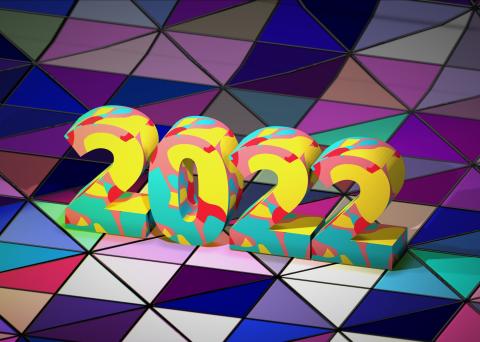 New Year, Same (sort of) Covid
A new year is usually filled with a renewed energy that has us making plans, lists, goals and above all, feeling hopeful. The start of 2021 was brimming with a hopefulness that Covid would die down and things could return to "normal". The initial wave of Sars-CoV-2 had passed along with the newer strains Alpha and Beta so that should be the end, right? Three waves? Except then came Gamma and Delta and most recently Omicron. Even worse, people are ending up with BOTH the coronavirus and influenza at the same time: FluRona. 
Now, nearly two years have passed of quarantines, testing, on and off virtual schooling and on the Eve of 2022 (2020-too??) there was cautious optimism. Maybe this would be the year. Maybe it won't be all the way better, but enough that a vision board or travel plans, or even a weekend cookout wouldn't feel like a waste of time and planning. It still may be possible, but for now, people are tired. Families especially are tired. Plans are tenuous, nothing is clear, and worse yet, it's out of our control. Short supply of tests, shuttering child care centers, and ever changing quarantine protocols somehow make our battle against Covid even more challenging. One step forward, two steps back, slide to the left, criss-cross and stomp your feet at this never-ending awkward pandemic dance.
How can we take back some of that control and find a sense of balance? Of course there's the ever popular idea of self care (fulfilling basic needs doesn't count), but beyond that so many of us want more. Now is the time to find the right thing for you, whether it be screaming into the void, meditating on the changing seasons, or anything in between. The in between is full of options - full of actions that we can take for the better.
Urgently raise your voice to those in decision making positions
Give your time to causes that fulfill you.
Help engage in your community to help bring about the changes you know are necessary to keep families afloat when they need it. 
In other words: UGH! Because that's how we all really feel. We're tired of pivoting, adjusting, and rescheduling so instead let's do our best to become a better version of ourselves and enact change today that will hold us steady tomorrow, no matter what that brings.