New Report Highlights How Health Information Technology Can Improve Health in Communities of Color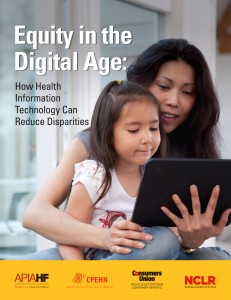 It's amazing how much technology has advanced in just 15 years. Back in the mid-1990s, the internet was new and everyone was still learning how to use it. Flash forward to today, and you might be reading this blog on your phone!
While enormous medical and technological advancements have been made over the last century, it is only very recently that there have been similar rates of development in health information technology (HIT). These developments have a lot of potential, but in order to effectively improve health care for all, HIT implementation must respond to the needs of all populations. Used effectively, HIT can enhance access, facilitate enrollment, and improve quality in a way that does not worsen existing health disparities for the most marginalized and underserved.
Equity in the Digital Age: How Health Information Technology Can Reduce Disparities examines the latest in HIT and offers recommendations for how it can be used to improve the health of communities of color. For example, we look at how online enrollment forms can make the application process for programs like Medicaid easier, and how using mobile technologies like cell phones and texting might be the best way for physicians to reach low-income communities.
We also highlight the technology gaps that still exist, particularly among communities of color, immigrants, and people who do not speak English well. If we don't do anything about these gaps as HIT use increases, this "digital divide" could actually lead to greater disparities as people in these communities are left further behind.
CPEHN, in partnership with the Asian & Pacific Islander American Health Forum, Consumers Union, and the National Council of La Raza developed this report to ensure that the use of emerging technologies will optimize the use of health information by patients and providers to improve the quality of care and help to reduce health disparities.
Ellen Wu is CPEHN's Executive Director.