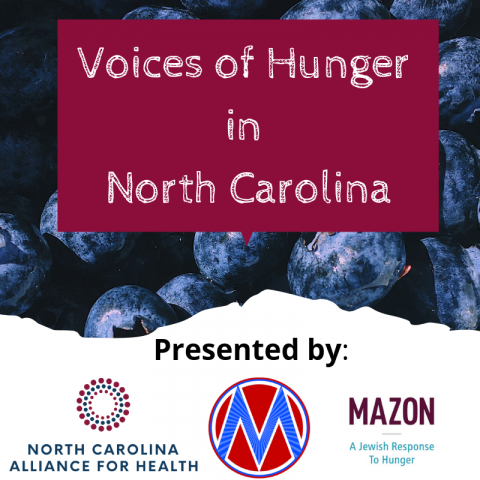 New Podcast! Voices of Hunger NC
MomsRising and the North Carolina Alliance for Health are excited to announce the launch of our  new podcast, Voices of Hunger NC, in partnership with MAZON: A Jewish Response to Hunger! Released in time to mark the beginning of National Hunger Awareness month that began September 1st, our podcast opens the cupboard on hunger, raising awareness about the extent of food insecurity in our state. And we want to personally invite you to listen and share!
People in nearly 590,000 North Carolina households don't have enough to eat each day. Put another way, 1 in 7 people in North Carolina struggle with hunger.  This podcast gives voice to the people behind those numbers, debunking common myths about who is hungry. We invite you to listen in to the stories of people across the state, from a mother in Rockingham County who struggles to provide healthy food for her children to a group of students in Hertford County who are growing food and sharing it with community members in need. You will also hear from the individuals and organizations that are addressing the epidemic of hunger & poverty through direct service and policy channels.  For example, one episode features Earline Middleton, who has been on the front lines of food bank advocacy work for almost 30 years.  Another episode features Wake County Board of Commissioners Chair Jessica Holmes, who transformed her experience growing up hungry into the momentum that has propelled her to elected office, giving her the power and tools to implement anti-hunger policy changes. 
This podcast offers something else, too.  By listening to the voices of a wide range of diverse people from across the state who have experienced times of food insecurity, it is our aim to help other families feel less alone in their struggles.  We hope to remove the stigma and shame felt by many individuals who struggle to put food on the table. It is not your fault if you work hard and still can't seem to put together enough nickels to make ends meet.  The problem is systemic and entrenched; as Andrew Fisher, author of Big Hunger: The Unholy Alliance between Corporate America and Anti-Hunger Groups writes, one of the root causes of hunger is "economic inequality driven by poor wages." He adds that "Racism is a contributing factor to the disproportionate rates of poverty and food insecurity among persons of color." 
Moving beyond awareness, this podcast offers listeners the tools to become informed anti-hunger advocates. We share multiple levels of personal and policy engagement that fit within peoples' busy schedules-- from signing a petition to joining our network of advocates with lived experience of food insecurity.  So please tune in, share your feedback with us, and join our anti-hunger campaign!