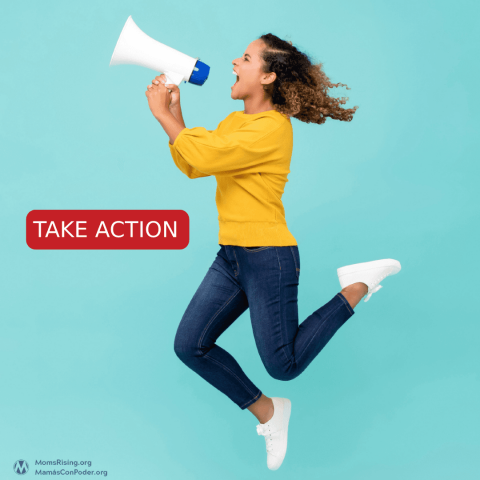 NEW parent fellowship: join us in Allegheny County!
Are you eager to be a more powerful and effective advocate for parents and families in Allegheny County? Eager to learn more about the challenges facing working families, and how to engage your community, legislators, and even the media? We've got you covered! MomsRising is launching a new leadership program for parents and caregivers in Allegheny County.
This is a doable experience that will fit into your busy schedule. Fellows will participate in monthly meetings and coaching calls, plan impactful community events, meet with local leaders, and more. We'll focus on issues including early learning, maternal justice, and and paid leave, and cover topics like public speaking, event planning, writing for the paper, tuning into your own power and positionality, and much more. You'll leave feeling more comfortable and confident speaking out about issues you care about, and with a strong community of fellows beside you. 
The commitment is about 4 hours/month for 10 months, and there's a volunteer stipend too. We'll meet online and in person (when we can). Scroll down for more information, and click here to apply!   
Here's why we're doing this: Parents have played a central role in demanding and winning tremendous investments in early learning, paid leave, and more. We know firsthand that our families, schools, businesses, and communities are suffering. While we've made great progress, we all know there is much more to do. 
Click here to get more information and apply. We're accepting applications through January, and the program will start in mid-February. 
You are a superhero, whether you're a new or seasoned advocate. And we're here to help you expand your superpowers. Fellows will meet virtually to share our experiences, build skills, and launch strategic actions to educate our communities and influence lawmakers. We'll cover topics including:
Understanding how policies and budgets pass at the federal and state levels; 
Tips for engaging friends and neighbors around issues you care about; 
Strategies for crafting fun and impactful events that get noticed;
Exploring your position and power within the movement, and how to center equity in your work.
Fellows will leave with renewed confidence and hard skills to be leaders around issues they care about. 
Click here to get more information!
Here are some additional details:
WHEN: The Fellowship will start in mid-February, and run through the beginning of next year. We'll have monthly virtual meetings, and hopefully some in-person meet-ups too. Virtual meetings will take place on Sunday late afternoon or Wednesday evening. All sessions will be recorded in case you have to miss any. 
HOW: We're meeting virtually. Fellows should have access to a device and reliable internet connection. Sessions will be held in English. 
WHO: This experience is intended for parents and caregivers in Allegheny County, PA. 
Fellows will receive a $750 volunteer stipend to support their participation in this experience.
Come join us, and play a key role in our efforts demanding meaningful relief that truly helps Pennsylvania families.