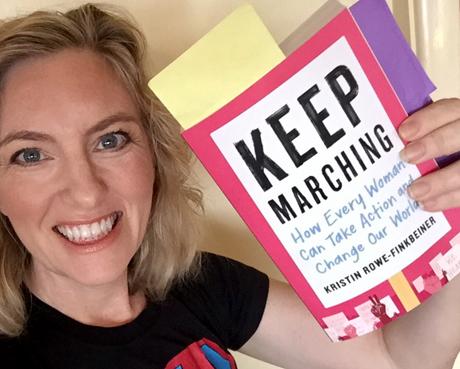 New Keep Marching Book - Captures the Heart and Soul of MomsRising
Let me tell you a little something about Kristin Rowe-Finkbeiner. She has a husband, two kids and an enormous dog that follows her around the house with its food bowl. She hosts a weekly public policy radio program called Breaking Through. She is also executive director of MomsRising. In other words, Kristin is extremely busy.
Yet, after the 2016 election, Kristin knew she needed to make the time to write a book: A book to help women navigate the tough times she saw ahead. A book to amplify women's voices to make sure we would continue to be heard. A book to keep women focused on the kind of progress we need, with the advocacy tools to build our power.
I know she's completely embarrassed that I'm writing this, but after months of hard work, Kristin did it! She finally finished writing Keep Marching: How Every Woman Can Take Action and Change Our World, and it came out on May 1!
When Kristin was writing her book, I watched her draw on her decades of experience advocating for women (and on the collective hundreds of years of experience of the MomsRising team) to identify the best tactics and tips to pass on in the book.
I watched her rewrite sections over and over again in order to find exactly the right words to convey her deeply felt passion and commitment so that readers would be inspired to feel those things too.
I watched her as she sorted through the literally thousands of stories we've collected over the years to find the perfect ones to illustrate how different issues— from paid family leave and healthcare, to violence against women to immigration reform and so much more— impact women and families in different ways.
And I watched Kristin as she painstakingly did the research, spent hours interviewing people and listening to top priorities of our members, and assembled the policy measures that would best help women and improve our lives.
And the result of Kristin's hard work? A book that every woman who wants a brighter future for herself, her family and her community should have on her nightstand. Filled with the voices of real women, Keep Marching tells the story of what it's like for women to live in America today, and gives us the facts, solutions and advocacy tools women need to join together to build that future.
I know I'm biased, but Keep Marching really is good. Some of the stories moved me to tears, and it filled in the blanks for me across a host of issues. Most importantly, Kristin has succeeded in putting down on paper the heart and soul of MomsRising -- why we do the work we do and a clear vision of what we're working for.
The book is a roadmap, an advocacy tool, a policy agenda, and boldly paints a picture of the kind of country women want and deserve.
For more information about the book, including how to get your own copy, go here. And think about giving it as a Mother's Day gift for all the moms in your life!