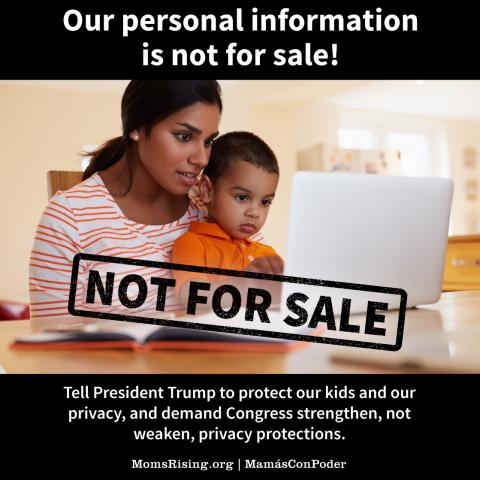 * New -> #5Actions to Start the Week!
Happy Monday! We hope you're enjoying these early days of spring. 
While the seasons change, our need to speak out, loudly and regularly, about the issues that matter remains. Without further ado, here are our top 5 actions of the week! 
You can do all five of the actions on one day, or spread them out across the week, your choice. The important thing is not WHEN you do them, but IF you do them. And if you do them, your actions will add up with others, and you're sure to have an impact.  
—> ACTION: http://action.momsrising.org/sign/2017_EqualPayDay/
BACKGROUND: Tuesday, April 4th is Equal Pay Day. Again. Seriously, we are doing this again. It's the day that marks the fact that, on average, it takes women 15 months to make what men make in 12 months. It's way past time for a change! Sign our open letter calling on state and federal lawmakers to end unfair pay by championing policies proven to help close the wage gap and boost our national economy: paycheck and workplace fairness, paid family and medical leave, affordable, high-quality early learning and childcare opportunities, earned sick days and raising the minimum wage.
***To be really clear, while today symbolizes the wage gap of all women taken together, it does NOT tell the whole story. The fact is that mothers and women of color bear the largest brunt of the wage gap.
2. Call NOW To STOP Neil Gorsuch's Confirmation To The U.S. Supreme Court!
—> ACTION: Dial 1-855-976-1895 and we'll walk you through every step of the way. It's quick, easy, and high impact!
BACKGROUND: Senate Democrats have the 60 votes to filibuster Neil Gorsuch's confirmation to the U.S. Supreme Court. Senate Majority Leader McConnell is expected to take steps to lower the threshold for Supreme Court nominations to a simple majority vote -- the "nuclear option" -- as early as this Friday. Even with the nuclear option, it would only take a few Republican votes to completely stop Gorsuch joining the Court. As a Supreme Court Justice, Gorsuch would codify the worst of the Trump Administration into our nation's laws for a lifetime - something our country simply cannot afford. And with the White House currently under investigation, now is not the time to consider appointing a new U.S. Supreme Court Justice. Call now and you will be directed to the office of a Republican lawmaker most likely to be open to our concerns. Tell him/her to vote NO on the nuclear option and NO on confirming Gorsuch to the Supreme Court.
3. Tell Trump and Congress: Our Information is NOT for Sale!
—> ACTION: http://action.momsrising.org/sign/internet_privacy/
BACKGROUND: Last week members of Congress voted to roll back protections that kept Internet Service Providers from selling your personal information without your consent. This includes information about your children. Here's the kind of information that can now go to the highest bidder: browsing history; location and time of communications; message content, including texts; video-on-demand history; information related to finances or health; social security numbers and other personal identifying information; and more. Join us to tell President Trump and Congress that our information is NOT for sale!
4. Take Action to #RaisetheAge in North Carolina and #RaisetheAge in New York, and in support of Dual-Language Learning in Washington State!
—> ACTION: #RaisetheAge in North Carolina and New York 
BACKGROUND: New York and North Carolina are the only two states in the country that have failed to recognize what research and science have confirmed – adolescents are children, and prosecuting and placing them in the adult criminal justice system doesn't work. The time is now to raise the age of criminal responsibility in New York and North Carolina and stand on the right side of justice! Sign on to our letter asking your legislators to act now and END the practice of incarcerating kids as adults.
—> ACTION: WA Legislators: Support Dual Language Programs!
BACKGROUND: Dual language learning programs can help close the opportunity gap before it starts while supporting our schools in embracing language and culture diversity to help all children and their families thrive. Research shows that dual language programs are the best way to increase student achievement for English Language Learners (ELL), while also improving education outcomes for native English speaking students. And students who know more than one language have exhibited increased emotional intelligence, stronger problem solving skills, and improved academic outcomes. 
5. Tell Congress: We Need Paid Family & Medical Leave For ALL Working Families, Not Some!
—> ACTION: http://action.momsrising.org/sign/paid_family_leave_2017/
BACKGROUND: The United States is the only industrialized nation in the world without some form of paid family leave. This hurts families, our businesses, our global competitiveness, and our economy. Sign on to a letter to Congress letting them know that our country needs a comprehensive paid family/medical leave bill that benefits ALL working families. America's families need a robust detail-driven paid family/medical leave policy that: is accessible to all working people; offers meaningful length of leave – at least 12 weeks and covers the full range of personal medical and family caregiver needs established in the Family and Medical Leave Act; is affordable and cost-effective for workers, for employers and for the government; is inclusive when it comes to defining "family," and allows working people to take leave without facing adverse employment consequences.
 Thank you for all you do to make our nation stronger and a place where everyone can thrive! #KeepMarching!
 
P.S. Did you get a "Nevertheless, She Persisted" button? It's not too late to get yours ... or to get more! Click this link to make a donation in any amount and we'll send you a button: https://action.momsrising.org/donate/she_persisted/