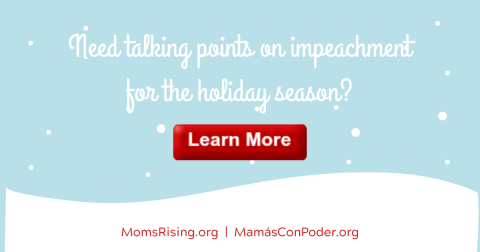 Need talking points on impeachment for the holiday season?
My family has a tradition to go around the table during Thanksgiving dinner to say what we are thankful for (as many families do). This year, I am feeling especially grateful for our Constitution that recognizes the need to have co-equal branches of government, and mechanisms of oversight and impeachment to protect our democracy.
What I'm not thankful for is the tension I'm anticipating at my family gatherings this holiday season on the topic of the impeachment. That's why I'm sharing this recipe with you for surviving until the pumpkin pie stage of dinner or whenever you choose to engage in a conversation about this important issue. (No turkey necessary!) Here are the ingredients:
Start the conversation from a place of common values. It's important to discuss what you are FOR (rather than against). For example: Liberty and justice for all are very important to me, and so is ensuring these values—and our democracy—are protected for future generations.
State the facts from your perspective plainly with as little bias as possible. For example: The videos of the full witness testimony and other evidence shows that President Trump used United States military aid to pressure Ukraine to interfere in our 2020 elections.
Share how this abuse of power and the national discussion around impeachment has made you feel as a voter, as a resident of the United States, as a parent, etc. It's ok to express your frustration and emotions, while respecting those who may feel differently.
Be sure to take deep breaths and also listen, too (and remember listening respectfully to an opposing opinion doesn't mean that you've lost your own moral compass; it just means you're giving space for an important conversation). You may find that your emotions are the same, even if your opinions are different!
Finally, share your desires for the future of our nation, and connect the deficiencies in what is happening now, to your shared feelings. For example: I want our children to grow up in a nation where our leaders are accountable to the people and abide by the Constitution. What I've learned about the actions of President Trump during the impeachment inquiry has made me feel afraid for the future of our democracy because my need for trust in our government and systems of accountability isn't being met.
Though having tough conversations isn't as easy as pumpkin pie, it's important to come together, share how we feel, and to listen because we as a nation we will need to come to a place of healing after what is likely to be a long and contentious impeachment process. As moms, dads, and advocates, we can help to guide the conversation, and it's really a conversation that starts around the dinner table. 
It is our children's future at stake, afterall. It's time to talk and listen because the facts are clear: We must impeach and remove this president - and we will come through this as a stronger nation as a result. 
Our kitchen tables are the most powerful incubator for impacting change and creating the future we want for our children. Be sure to Tweet to us at @MomsRising to let us know how it goes and use #ThanksConstitution.
Don't forget to get the conversation started now and share this video with family and friends.