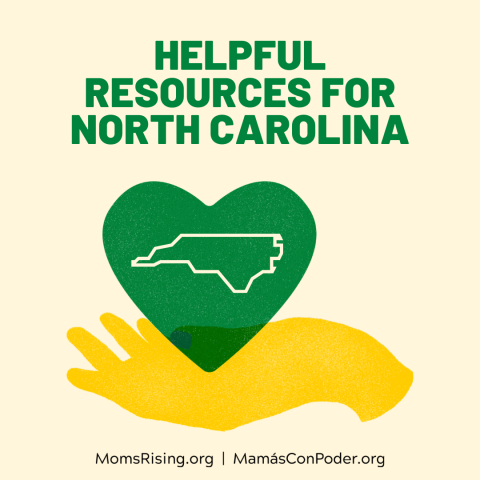 NC Resources during COVID-19 and Ways to Help
As a mom of two teens who is worried about the health of my parents and the well-being of my children, I struggle to wrap my head around this pandemic. I see how the COVID-19 epidemic is increasing the stress and exacerbating the challenges that many of our families were already dealing with before the coronavirus emerged. 
In response, our NC MomsRising team has pulled together a set of resources to share with you. We thank our many partners for sharing their resources with us, and are drawing from lists compiled by Equality NC, NC Department of Health and Human Services, the NC Early Education Coalition, Child Care Services Association, the NC Department of Public Instruction, NC Alliance for Health, and more. Our resource list is by no means comprehensive – if you have a resource you think should be added to this list, or have a need that you would like to see addressed, please email me at jessica@momsrising.org.  The resources below range from how to get food assistance to how to access the internet to how to keep your kids moving while they are stuck at home, and much more!
What gives me hope and comfort is knowing that there are 47,000 of us MomsRising members in North Carolina, who come from all parts of the state and live in all 100 counties. We are moms, dads, grandparents, children, siblings, aunts & uncles who are used to supporting one another and overcoming obstacles. This virus is demonstrating, more than ever, how interconnected we all are. We are stronger together –  even while remaining physically apart during these social distancing times. 
COVID-19
How to talk to children about the Coronavirus
General Help and Support
Food Assistance
This link takes you to a statewide resource for finding food, put together by Feeding the Carolinas. If you are looking for food assistance to get you through this epidemic, please:

At this website, type in your county.

The Food Bank for your county will pop up.

Go to the Food Bank and/or other food assistance program that pops up for your county, and click on "Find Food."

Under "Find an Agency Near You," enter your zip code and/or county.

When the Food Pantries pop up, please call the pantry before you go just to make sure they are open.  Some programs may have had to alter their distributions because of COVID-19.

How to find free, healthy meals for kids age 18 and under:
1. Text FOODNC to 877-877 to receive a text with drive-thru or pick-up sites with meals for kids closest to you.
2. Use the mapping tool at http://nokidhungrync.org/covid19/ to find drive-thru/pick-up sites with meals for kids across NC.
3. Visit https://bit.ly/2QmShwT for updates from school districts and community partners serving meals — including info on additional options such as bus drop-off meals.
4. Check your local school or district's website, social media, and other communications for the most up-to-date info.
How to Apply for Supplemental Nutrition Assistance Program (SNAP, or Food Stamps)
Parenting in a Crisis: Parent and Caregiver Guidance
Understanding your Right to Paid Leave & Paid Sick Days under Federal Law
Call A Better Balance's national legal Helpline for free and confidential information about your workplace rights around caring for yourself and your family: 1-833-NEED-ABB (1-833-633-3222)
Unemployment Insurance Benefits
Governor Cooper has waived the one week waiting period to apply for unemployment, hopefully shortening the period of time people whose employment is impacted have to wait. Go here to file for unemployment benefits. 
For Small Businesses and the Self-Employed
The NC Rural Center and Golden LEAF are offering a new COVID-19 Rapid Recovery Lending Program. Visit www.ncrapidrecovery.org to learn more and start the application for a rapid recovery loan.
Healthcare
Pregnancy and Motherhood
Mental Health
In response to social distancing measures and the overwhelming amount of news about the current coronavirus (COVID-19) pandemic, the Suicide Prevention Resource Center (SPRC) has compiled a selection of resources on mental health and coping during this difficult time.

The National Suicide Prevention Lifeline is 1-800-273-8255 

If you have Medicaid, click on this website, hover your mouse over your county, and then call the number listed.  You will see both a crisis line number and a regular number you can use to make an appointment.  

If you have private insurance: Call your insurance company because tele-health is already available in most cases. 

For urgent needs, click on this mental health/substance abuse crisis solutions page

A Toll-Free Hope Line has been established for older adults experiencing isolation due to social distancing. Call 1-866-578-4673 or 1-866-578-HOPE

Two new NC-specific mental health helplines to support North Carolinians throughout the COVID-19 crisis, including a helpline for healthcare professionals
Immigration
Childcare
Emergency childcare hotline for healthcare and other necessary workers: 1-888-600-1685 to be connected with the right fit for their children
Domestic Violence
Internet Service Options
Ways to Help
How we can support our Communities, Small Businesses, and Farmers
Learning Opportunities for Children
Working from Home with Kids?
Fun Online Educational Opportunities
Live Workshops conducted by Latina moms in Spanish who are experts in psychology, nutrition, art, fitness, dual language instruction and more! RSVP here for these 20 minute long master classes
Voting
Advocacy
Opportunity to share your story:  https://action.momsrising.org/survey/CoronavirusStories/  Has your family and community been impacted by the coronavirus (COVID-19) pandemic? Personal experiences are powerful and can make a HUGE difference in helping elected leaders understand why taking critical steps—like passing paid sick days and ensuring COVID-19 testing is widely available—are essential to the health and well-being of our communities.