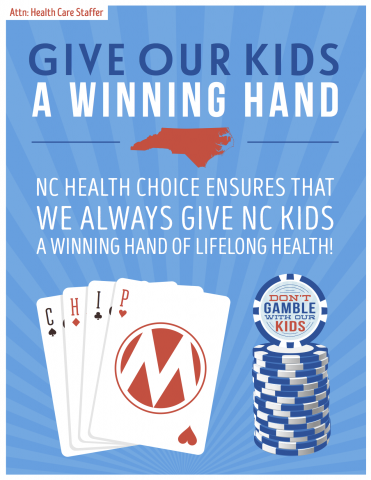 NC Health Choice Ensures that We Always Give NC Kids A Winning Hand of Lifelong Health!
NC Health Choice ensures that vulnerable NC children have the opportunity to lead healthy lives. NC Health Choice 
is a result of efforts by Republicans and Democrats to pass the Children's Health Insurance Program (CHIP) in 1997; 
they agreed health insurance for vulnerable children was an important low-cost, sound investment in our children's 
health and future – and they were right! The uninsured rate of children in NC is now at a record low of 4%!
Thanks to NC Health Choice – which received $434.9 million in federal funds in 2016 – more than 256,000 children 
are able to receive necessary care at an affordable price, and their parents can breathe a little easier knowing that 
their child's broken arm or sore throat won't lead to insurmountable debt.
This dramatic increase in kids' coverage has a tangible, positive impact on our state's future health and education. 
Kids with health insurance are less likely to get sick and more likely to get preventative care, such as immunizations 
and dental care, which keeps them healthy. They can also receive timely, affordable care when they are sick, 
injured, or suffer from a chronic illness – all of which saves money in the long run. For these reasons and more, 
CHIP has earned the support of 83% of Americans because it is a smart investment in our kids' future.
Moms 
like 
Melessa, in Charlotte, NC, 
know that health coverage is critical for children's development:
After 5 years with the same company I thought my life was 

stable until an economic slide took my job overseas and left 

me without any benefits. My son was 5 at the time and I was 

pregnant with another. My son woke me up one night unable 

to breathe... the scariest minutes of my life proved that my son 

would need on going medication. Luckily the hospital had to 

see us but the follow up and prescriptions would surly make it 

hard to continue day to day life, paying bills and still able to 

support my children.

 

The hospital referred me to Medicaid who accepted my son into 

the NC Health Choice where I pay a once a year reduced fee and 

low copays. This eased the burden and allowed my son to continue 

to have a healthy life. Even though I am working again 

the coverage for my family would take 1/4 of my paycheck each 

paycheck. That is not something I can afford with living expenses 

and gas. Without the NC Health Choice program I know we 

would not be able to survive.
Read more stories from North Carolina families and providers to learn more about how NC Health Choice 
has improved the lives of the more than 256,000 children it covers in North Carolina. (And if you have a story of your own, please share it here.)