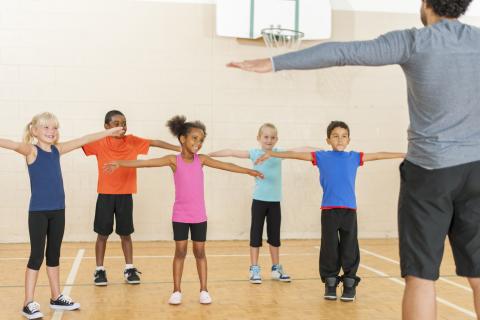 NC: Got PE? We want to know!
I don't know about you, but I can tell when my kids haven't had enough physical activity during the school day. It shows up in ways like bouncing off the walls because they have energy to burn, difficulty focusing because they haven't moved enough, or being cranky or tired because they had to try to be still for too long.
Just like access to healthy food and clean water, kids need physical activity to thrive and grow strong. We want to make sure every NC kid is getting what they need, but we need YOUR help.
This year, MomsRising is partnering with the North Carolina Alliance for Health to ensure all students have access to effective physical education (PE) programs. We're gathering stories about PE programs across the state, and we would love to hear yours! Can you take a few moments to share your child's experience?
***The survey will take 5 minutes or less of your time and you can choose whether to provide your name and contact information. If you do, your name will be entered into a raffle to win PE equipment for your school! Please note that you must complete the survey by May 15 to be eligible for the raffle.
All students should have the opportunity to get up, move, and exercise throughout the day. This not only improves their physical health, but is also good for their mental and emotional health, too.
Active kids learn better because they focus and think better, meaning higher test scores across the board. [1] Physical inactivity contributes to health conditions like heart disease, diabetes, and obesity, which are all growing in frequency amongst children in the United States. [2]
These are just some of the many reasons access to PE is so important. Physical education addresses the needs of the whole child and offers the best opportunity to provide physical activity to all students, teaching them the skills and knowledge needed to establish and sustain an active lifestyle.
PE has many benefits, including improving academic performance and classroom behavior; improving self-confidence; reducing depression and anxiety; lower chronic absenteeism; and teaching healthy habits for life.
Making sure all students are getting physical education is a critical part of keeping kids healthy. In order to do that, we need to hear your experiences: Does your child have regular access to PE? Does your school have access to the resources it needs to provide PE? How does having or not having PE impact your child–not just in elementary school but all the way up? Please take a few moments and tell us now!
Your input can help ensure that children all across NC get the PE they need to help them thrive and live strong, healthy lives.