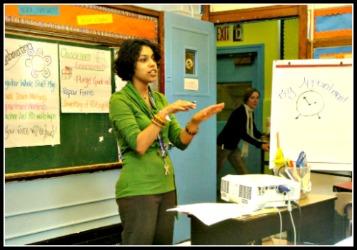 National Teacher Week: Women and the Teaching Brain
In celebration of National Teacher Week I'd like to talk about the many women in teaching.  It is of no surprise that teaching is a female dominated profession.  Back in September the New York Times published an article "Why don't more men go into teaching?" citing that more than 75% of all teachers K-12 are female.  In high school classrooms that percentage jumps to 80%.  
So why so many women in teaching?
It wasn't always this way.  As I describe in my book The Teaching Brain, before teaching became a mostly female profession, young men went into teaching for one or two years to gain practical experience before moving on to more "respected" professions such as medicine or law.  The belief was that these young men could easily teach children simply because they were intelligent and motivated. 
I would like to tell you that the switch to a female dominated profession was for noble reasons – but it was not.
Historically, women were only allowed to hold temporary positions as secretaries, or sales girls under the management of men.  The expectation was that once married, and with children, you'd leave your post and tend to the family.  The lack of a viable profession left women with no options for long-term career advancement, better pay and job stability.
As the rumbling of the suffrage movement began in the early 1900's women saw an opportunity to break into a profession that was more than a mere "lay-over" from being a daughter to - wife and mom.  Teaching had always been difficult to staff because it was not respected or well paid.  Women argued that they could fill the staffing problem.  The basic pitch was that as moms we're natural teachers, it's just in our DNA. 
To sell the idea to fiscally conscious policy makers women's groups pointed out an added bonus: women were less expensive than recent male graduates.  They also sold teaching as a naturally maternal instinct – a less threatening concept to the men of the time.   Plus, a teacher's work day was the same as their child's – so they wouldn't neglect their maternal duties. At the time  it was a win-win situation (you'll also note that many of these ideas prevail even today).  Schools needed to staff hard to fill positions, government officials needed inexpensive yet intelligent people to do so, and women needed a profession where they were allowed to showcase their professional capabilities. 
The plan worked brilliantly! 
Even now women dominate the teaching profession.  But the view of teaching as a maternal instinct undermines the hard work, skill and dedication it takes to be a great classroom teacher or mother! As moms we feel a natural instinct to teach our children.  But that natural teaching ability is taken to another level by the expert classroom teacher. 
In The Teaching Brain, I use my experience as a mom, a classroom teacher, and researcher to help reshape our understanding of teaching and answer the question – what is teaching? 
Teaching like learning (and motherhood for that matter) is a natural ability of humans that blossoms with nurturing, understanding, reflection and development.  But unlike learning it must happen in interaction with our learners. 
You might be shocked to discover that research on teaching has never considered how humans develop our ability to teach or that it is inherently a very sophisticated interaction. 
Toddlers can teach, moms clearly are teachers, but what an expert classroom teacher does with that skill in the artificial learning environment of a school, is quite different! The book uses examples from children, parents and the classroom to take the reader on a journey of discovery into the heart of education.  As mothers, it speaks to how our natural instinct to teach was used to open the door to the profession so many years ago and how we need to understand teaching as a skill that should be developed over time through interactions with learners – at home or in classrooms with our children.
---
Editor's Note:
Moms have been raising their voices to urge the President to prioritize funding to make sure our littlest learners get the best start in school and life. He heard! But, the investments will never become a reality if Congress does not include these proposals in its budget.
Join us and ask Congress to support our littlest learners like the President did in his budget.