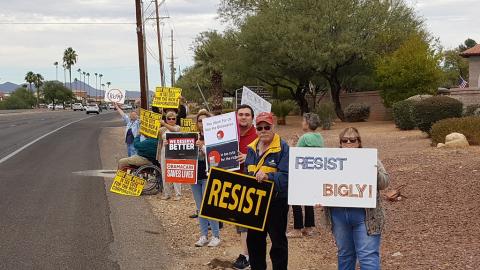 National Guard Deployment to Southern Border Is 'Rash, Misguided and Dangerous for Our Democracy'
President Trump's plan to send the National Guard to the southern border is rash, misguided and dangerous for our democracy. This move will do nothing to protect our country; instead, it will inflame tensions along the border and further demonize immigrant communities, which are already suffering terribly under the Trump presidency.  Further, blocking asylum seekers from accessing the asylum process at our borders, as this plan appears likely to do, is a violation of United States and international law.
 
It is appalling – but sadly unsurprising – that Trump sees the humanitarian crisis at the Mexican border as a threat that requires military action, rather than a situation that should be handled with care and compassion. As with Trump's repeated lies about immigrants and refugees, and his obsession with building a wasteful border wall, this move will do nothing but further endanger vulnerable communities at the border and increase the xenophobic rhetoric plaguing our national dialogue. A large portion of border crossers are unaccompanied minors or parents with young children – they should be met with aid and assistance, not the National Guard.
 
The country's moms will urge Congress to rein in the president and stop this ill-advised, callous plan from being implemented.