My Story- Escaping Genocide Was the First Step
My name is Lundy Khoy and I came with my parents, Sinath Khoy and Rasy Monh, to the United States on November 12, 1981. I was one year old. My entire family migrated to the United States after escaping the awful Pol Pot genocide in which over 2 million Cambodians were murdered. They found shelter at a refugee camp in Thailand where my mother gave birth to me on November 10, 1980. I grew up in California and went to elementary, middle, and high school there. In the middle of high school my family relocated to Virginia in order to be closer to the rest of our relatives.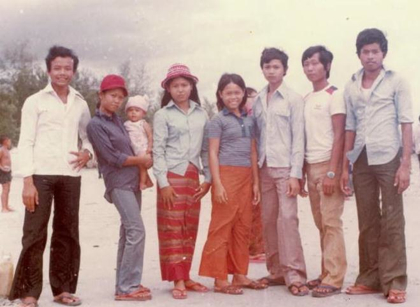 None of these facts may seem important, but I assure you they are. We were all granted Legal Permanent Residency status, and I and my brother and sister (born shortly after we came to the United States), grew up in the U.S. like every other average American kid. I ate Cheerios for breakfast and took the bus to school. I played on the monkey bars, and my mom always packed my lunch. We went to Disneyland every year and religiously watched the Fourth of July fireworks from the beach.
There was play time, school, temple and church time. As a teenager, I attended school dances in all of their crêpe glory. I am not a U.S. citizen; but there is no way I am not an American. The United States of America has always been my home and is my country. I have been from coast to coast and, except for being born in Thailand, have never called any place except the USA, my home.
My parents were strict by American standards as they were trying to raise me as a Cambodian in America. I was not allowed to participate in any extracurricular activities at school as they were very over protective. Yes, there were many "BBQs and hotdogs" but there were also many rules to follow. Playtime was only on the weekends; my siblings and I were expected to come straight home after school to do our homework, help mom cook and then start on our chores. My parents raised us the best they could being Cambodian refugees, and although it was a happy home, it was a home in which I struggled to find independence.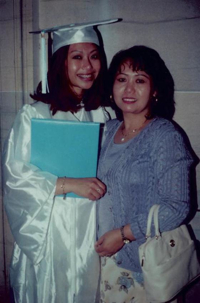 The summer after high school was when everything came to a head. I had used the extra time to work three part-time jobs, while also attending George Mason University. This, of course, allowed me to save money, but I was also meeting many of the people who would ultimately impact the course of my life. My newfound friends introduced me to illegal substances that, being so sheltered, I had never even heard of before. It was not long until I was spiraling into a world that never leads anywhere good. Looking back, I can see the foolishness of it all, but at that point in my life I felt like I needed to break free of the tight mold my parents had set for me. Due to my lack of life experience and social settings, at the time, I was unaware of the consequences behind the choices I was making.
The spring of 2000 was when I had my very first and only charge ever. I was in college in Virginia. My friend and I were approached on a street in Arlington by a police officer who asked whether either of us had any drugs. Having been taught to trust the police, I answered honestly. I had seven tablets of ecstasy which I hoped to sell so I could repay my mother the money that I had taken from her. I was arrested for possession with intent to sell, which is an aggravated felony in Virginia. On the advice of my lawyer and feeling that a trial would increase my family's suffering and embarrassment, I pled guilty and was sentenced to five years in jail. I spent three months in the Virginia Department of Corrections, before my sentence was suspended because of good behavior. I then served four exemplary years on supervised probation.
It was during this time I began to accept, forgive, and believe in myself. I reclaimed my life by returning to work immediately and moving back in with my parents. I used the freedom that was given to me to better myself. I began working full-time as a loan processor and enrolled at Northern Virginia Community College (NVCC). I have always paid my taxes. I was (and continue to be) fully committed to being a productive member of society, making smart choices in life and making my parents proud.
In the midst of my improvement, I went in for what I thought was a routine visit to see my probation officer. In fact, I had brought along my most recent report card from NVCC in order to show my probation officer the growth I had made. What I encountered was a multitude of ICE officers instructing me to hand over my possessions and stand spread eagle against the wall. As my probation officer silently apologized, they escorted me out of the office, handcuffed me and eventually took me to Hampton jail in Southern Virginia. I was completely dumbstruck and could not understand why I was being incarcerated again as I had been following the rules given to me by the court as well as my probation officer without exception. They eventually informed me that my conviction meant I would likely be deported from the United States. For me this was a second, new punishment for the very same crime and this one, though never discussed or even mentioned to me years earlier, was worse than the first I had already served time for.
I was held at a detention center, Hampton Jail, for nearly nine months as ICE brought deportation proceedings against me and sought to remove me to Cambodia. Because they were unsuccessful, I was finally released under the supervision of ICE and expected to report to them regularly under their discretion. Upon my release, I returned once again to college. I also started working again and eventually found the career I had wanted, which is at a local university as an Enrollment Advisor. I find being able to help students obtain their higher education very rewarding. I also enjoy giving back to the community and have participated in a variety of charitable activities such as volunteering for Habitat for Humanity, Boys and Girls Club, March of Dimes, planting trees for Fairfax County Park, and highway clean up, to a name a few.
On Thursday, April 26, 2012 during a visit to ICE, I was informed by the deportation officer that I was being placed into another program called ISAP (the Intensive Supervision Appearance Program), which is more intense. I was to report to the ISAP officer on a weekly basis and have weekly home visits; I also have to wear an ankle bracelet to track me at all times. This made normal life very difficult, but I was fully compliant.
It was at this point when I decided that I needed to do something more about my situation. Just going along with what was being asked of me was not going to change the outcome of my case. Out of fear and shame, I had hidden my story from co-workers, friends, and even my boyfriend. For the first time, I decided to share my story with a wider audience in the hopes that someone could help. And when I did, the support from friends and community members poured in.
Filmmaker, Laurel Gwizdak, made a short documentary film about my story. Over 3,800 people have signed my petition on change.org, and I've even received letters of support from members of Congress. My story was also covered in the Washington Post. I received more good news in October – the ankle bracelet would finally be taken off, and I no longer have to check in weekly with ICE.
Yet, despite all the small victories, life is difficult. Every day, I live with the threat of deportation hanging over my head, wondering if this holiday will be the last one I spend with my family and friends. I am not allowed to have a driver's license, so it's hard to get around and to prove my own identity. It's difficult to dream and make plans for the future, when I don't even know where I'll be in six months, next year, or five years down the road.
Yes, I did make a mistake at a very young age. I fully understand and have internalized that; but I have also embraced the tremendous consequences for that mistake. I served my time as whole-heartedly as one can expect and served my probation faithfully. In fact, the only part of my punishment that I ask for leniency on is my deportation. To deport me on the grounds that I am not a citizen may be within the authority of the law, but I implore you to look past the first year of my life and realize that my entire development as an individual has been within the borders of this country. In America, I am surrounded by love, support, and encouragement. My family is indescribably helpful to me and they reassure me every day that I can be the best person possible. Every year I stay here, is one more year I grow and acquire skills and knowledge that allow me to contribute more and more to society. Having the tremendous opportunity to stay here would be allowing me to finally live how I've felt I've lived my entire life – as an American.