My paid family leave story delivery!
A few days ago, here in Texas, a friend, her baby, and I delivered stories about the need for paid family leave to our U.S. Senators and I wanted to share a few pics and let you know how easy it was.
I had never been to my Senators' district office, but it was easy to look it up from the link on the instructions page that I got after
signing up
to make the delivery. I noticed that my Senators' offices were only 8 blocks away from each other and decided to visit both. I'm in Texas, so I printed the national stories page from the instructions page, and then texted a friend to see if she'd like to tag along.
Our first visit was to Senator Cornyn's office. We found street parking and while we were in the elevator on the way to the office, we talked about what we'd say once we got there.
My baby friend suggested "ball, dog, mama," but we went with the sample script on the instructions page.
Our first stop was Senator John Cornyn's office. The staff member who greeted us was incredibly friendly and I explained the document I was delivering. He wrote some notes on the top of the page and assured us that he would bring the stories to the attention of the Senator. We weren't able to take photos inside the office, but here's the door.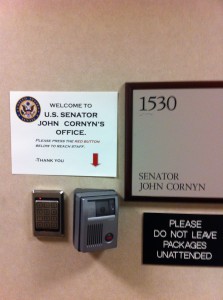 Our next stop was Senator Cruz's office. We got my friend's stroller out of her car and took a walk through downtown. This time we had to go through security and you could tell that people weren't used to seeing a baby in the building. Everyone stopped to coo and admire the little one.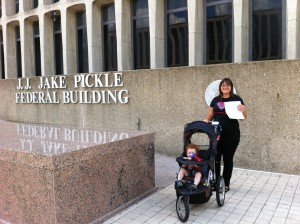 The security guard called someone from the office to meet us, we delivered the stories, and after a quick diaper change and nursing break, we were done! It was super easy and a lot of fun.I know how important our stories are because elected leaders are always bringing them up and asking for more! It's powerful to put faces on how the lack of paid leave in this country impacts real families, and I think our deliveries can make a difference!
You can join the fun and help build the MOMentum for paid family leave! Sign up
here
to get all the info you need to make your own delivery!