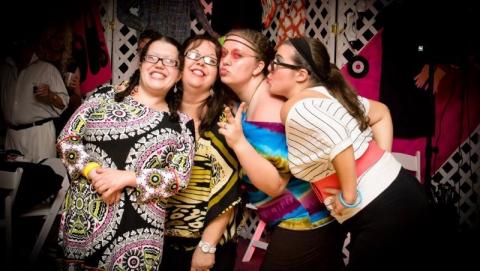 My mother didn't teach me just one thing. She taught me too many things to count, things which I can't even articulate, things that wouldn't make sense to anyone who isn't me or my mother. But that is the beautiful thing about our mother-daughter relationship. I value this relationship more than perhaps anything else in my life. I have to. My mother would give me no other choice. She is a force. Literally and figuratively, a force.
My mother and I have a strange and complicated relationship. I can only explain it properly with a lot of exasperated sighs, hand waving, and eye rolling. I also use a lot of references to "crazy Cuban woman" and "the guilt!" and "why does she have to be so dramatic and self-centered?!" but I love this woman perhaps more than any other woman in the world. She gave me life and not only gave it to me but prepared me for the best and worst of it. For this, I am forever thankful. I tried my best to distill all of my mother's lessons into one list for this blog:
She taught me to have strong values and to stand by them. She lives by what she believes. She is a woman of faith and her faith carries through her into her work, family, and friendships. She is the rock of my family, the one who makes sure to keep everyone together, happy, and healthy. I would be lying if I said I wished sometimes she wasn't this person. It has taken a toll on her emotionally and physically but she powers through, to my amazement, and everyone around her. Not because we underestimate her or her strength. But because one person shouldn't have to go through some of the things she has gone through. But that is one of the beautiful and baffling things about my mother. She is so grateful for her life with all of the good and bad in it. She believes there is a purpose but also can't wait to see what is on the other side of this life.
My mother taught me to give back to my community. We don't do it to make ourselves feel good, to collect accolades, or even for school credit. We do it because we must. I remember being a child and I would stay up way past any normal child's bedtime to help my mother with her volunteer projects for our school or her service sorority. I'll admit, sometimes I hated the fact that this was the way I had to spend time with my mother. Now as an adult, I understand this innate desire to do more and I value the experiences this time brought me.
She taught me hard work is not dirty or degrading. It is necessary to grow as a person, to value what you have in life, and should be admired. I can't remember a time when I didn't work. I was always at her office, outside on a job with my dad, or in the house cleaning or building things. We had fun as kids too, my sisters and I, don't let this list fool you. But we did work, and having worked from a young age taught me responsibility, maturity, and how to manage my finances and time.
Most importantly, my mother taught me the importance of self-respect. Every action has a consequence and I think of her every time I make a decision (some pictures on Facebook could have probably used more of her voice in my head, but I digress.) . That is not even an exaggeration- whether it be which throw pillows to buy, which doctor to choose for surgery, or whether I should change jobs, she offers guidance, honesty, and humor.
My mother is very aware of her faults and celebrates her strengths. She taught me confidence and intelligence are sexy. She taught me to have healthy friendships with women and that women should be allies not enemies. She taught me to be an equal to men, to never question my abilities, and to take chances. She taught me to learn more from what she says and not always what she does. Our relationship is complicated because we are complicated people. On this Mother's Day I want to celebrate her and all of the complicated women in my life. Without them, life would be boring, not full of lessons, and without love. Thank you to my mother, Marlen Weeks, for being a guiding force in my life, and for all of the mothers who continue to inspire me every day. Happy Mother's Day.