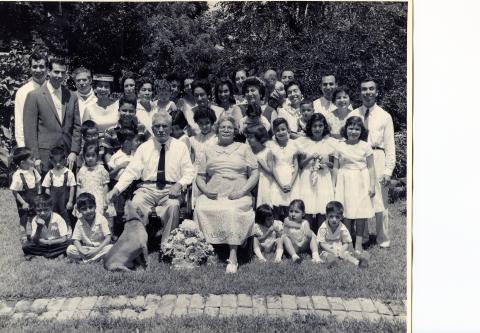 I am called Anita Louise Theresa Medina Sanchez. My name means 'graceful warrior'. Sometimes I am full of grace and at other times I have a lot to be forgiven.
I was born a mestiza—a mix of Mexican-Spanish blood and indigenous Aztec blood and I quickly learnt that the color of my skin could be a magnet for hatred and conflict.
As a young girl growing up in Kansas City, I had many experiences of seeing black and brown people being harmed and discriminated against in stores, in restaurants, and on the streets.
Then, when I was age 13, my father was shot dead while just he sat in a bar. He had been mistaken for the black man that an angry white man with a gun had been arguing with earlier that day. Racial tensions in modern day America are not just a snappy news headline in my family; they are our daily reality.
DEEP INDIGENOUS ROOTS
But even as I struggled as a mestiza, it was the deep roots and traditions of my diverse cultural heritage that enriched my life and provided the foundations strong enough to support me through the worst of times.
My short mestiza grandmother was born in 1891 in Mexico to parents of Mexican and Aztec heritage.
She and my grandfather respect the traditional ways and, like many families from multiple cultures, they lovingly weave together an interesting mix of Mexican traditions and indigenous worldview and practices.
My grandparents believe in hard work, love for one's immediate and extended family, the importance of healing plants, and honoring the mystery of the healers and shamans—the indigenous curanderos (healers) of Mexico.
THE POWER OF SPIRIT
My grandparents also recognize the power of spirit in everything and everyone.
I never felt questioned about my wholeness when I was in indigenous ceremonies, circles, sweats, blessings, or cleansings. Each time, my heartstring, like an umbilical cord, was made clearer and stronger between me and my mother, my grandmother, and my ancestors.
Being present in these communities and circles, present to Elders' words, healings, and traditional knowing and wisdom, fueled my optimism and joy in being a human being, dissipating my illusion and fear that my hurts and pains defined me.
My uncle from the Osage reservation would draw a circle in the air while saying, "To live as a whole human being is to live in balance, understanding our connection to people, to earth, and to spirit; to hurt one of these is to hurt all of these; to love one of these is to love all of these."
This gave me a clear picture of what is true abundance: the intimate interconnection of all life, and that I receive and give back to this life.
The Elders' wisdom and healing do not only belong to me: they belong to you, to all of us. Everyone has access to it because, ultimately, at the beginning, we all came from indigenous tribes, even if we have lost our story of those origins. Even if our minds have forgotten, we can take heart and reaffirm that we are part of the abundance of life, and that we are interconnected.
This wisdom can help anyone in their own life to wake up and detach from the illusion that they are separate, alone, or not enough. Without this wisdom, we operate as if we are fragmented and scattered; we live as if we are not needed, that we don't belong anywhere. Nothing could be further from the truth.