"My daughter's friend was shot last night"
"Heartbreaking. No child, no one, should have to die this way."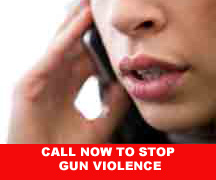 "I'm crying. I can't even begin to imagine. I'm so so so sorry."
"Crying too. I'm so sorry, so sorry. Whatever you need, space and quiet or conversation or anything, we're here."
Last week, the close friend of one of our MomsRising team member's teenaged daughter was shot at a gas station while returning from a practice. She'd just been accepted to college. She didn't make it. The above are just a couple of the many email messages that went back and forth between us as we mourned her loss.
Thirty people are murdered each day in our nation by guns. Everyday in our nation a parent, spouse, or sibling doesn't come home from work; or a child never returns home from school due to gun violence.
It's time to do something. It's time to show that "We're here" for the children and families of our nation. As moms, we are working hard out of our love for all families to put an end to these tragedies. We will not stop until we are heard and a solution is reached.
Right this very minute, the U.S. Senate is considering whether or not to pass gun violence reduction legislation. We need to stand together NOW and take a moment to call our Senators and demand that Congress take immediate steps to reduce gun violence.
Click here to call:
http://action.momsrising.org/call/Senate_AntiGunViol_CallIn/
Gun violence touches us all. It ripples out through our communities, our families, our co-workers and colleagues.
It's time to take action. To show we're here.