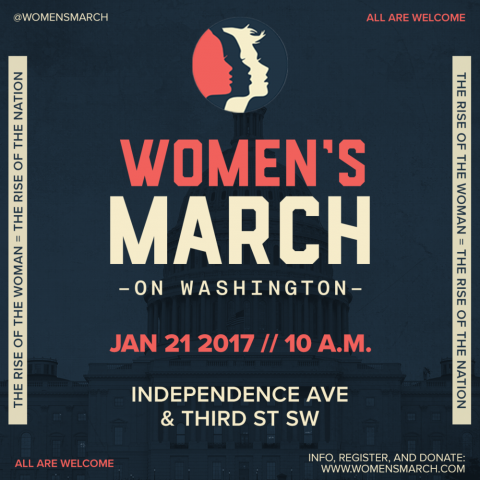 Must-have resources before you March tomorrow!
The Women's March on Washington and hundreds of sister marches are TOMORROW! We are excited, fired up, and ready to GO GO GO!
Tomorrow, MomsRising will be standing up with our families, children, neighbors, and hundreds of partnering organizations to protect our rights, our safety, our families, and our democracy, and to say NO to hate. Look for our banners!
To make sure we're all ready for the big day, we've put together some must-have resources below to make sure marchers (whether you're marching in-person or cheering on from home) have everything they need:
Get a FREE MomsRising Sign In-Person In DC!  While we know everyone will be marching with friends and family, we'll be there in DC giving out MomsRising free signs to carry near the start of the march!  *To get a sign to carry during the DC Women's March, meet up at 

9am

 at Garfield Park (at the intersection of 3rd and G Street SE, which is near the start of the march) in Washington, D.C.
Know your rights! If you're marching in D.C., review your rights as a demonstrator,  courtesy of the ACLU, before you march tomorrow and keep it handy: https://www.acludc.org/en/demonstrate
Want to receive updates in real-time, directly to your phone? Download the FREE Women's March App to stay informed: https://dl.doubledutch.me/download.aspx?appId=a944de01-cc1a-4e2c-8aba-1ac7c830c0a7&region=us
Want to show some MomsRising/MamásConPoder pride the day of the march? We have printable "Super M" buttons for you to wear while marching! #MomsMarching "Super M" Button INSTRUCTIONS: Just print the pdf in the following link, color the buttons, cut them out, and use a safety pin to put the button on your coat for the #WomensMarch!  --> Here's the link to get your FREE buttons for the #WomensMarch: https://s3.amazonaws.com/s3.momsrising.org/images/WomensMarch_Buttons.pdf

Want to bring a sign but not sure what to write? Download a FREE MomsRising sign to print at home before you go to the march: http://www.momsrising.org/blog/attending-a-womensmarch-download-free-signs-to-show-what-youre-rising-for
Want to get involved virtually? Connect with MomsRising on Facebook and via  #MomsMarching and #WomensMarch on Twitter on 

January 21st

 to raise your voice and help amplify the mission of the Women's March!
Finally, you can start your Women's March right now by joining MomsRising's Wall of Marchers Mosaic. Text MARCH to 747464 to add your selfie!
If you have any further questions that weren't answered here, we encourage you to review the FAQ section of the Women's March website. Whether you're marching in person or virtually in spirit, we know that together we will protect our rights, our safety, our families, and our democracy.
*****Also, DON'T MISS MomsRising's amazing moment!  MomsRising Executive Director Kristin Rowe-Finkbeiner will be speaking in person at the Women's March in Washington, D.C. If you can't be in D.C. to cheer her on in person, that's okay! Show your MomsRising love by watching the Facebook livestream that we'll be sharing on our main Facebook Page.
Happy marching and thank you for all you do!