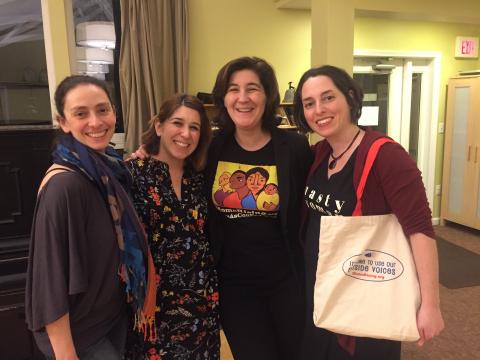 Music and Activism - #KeepMarching!
Some days are just amazing – and last week I had one of those days.  I was able to attend an awesome concert and facilitate an amazing discussion with a fabulous group of people in Jamaica Plain, Massachusetts at an awesome event organized by pianist Sarah Bob and her emerging Nasty Cooperative.
The Nasty Cooperative was formed when Sarah decided she wanted to do something. She thought about what she did well - music and event planning -  and decided to host a concert and discussion. The goals were to (1) share some amazing music (2) engage in dialogue about the issues we are facing today and (3) support organizations that they care about.
We were totally psyched that Sarah chose MomsRising as the first organization to support. I headed down from New Hampshire to spend an amazing evening with an engaged and insightful group of people.  The event featured performances by cellist Michal Shein, pianist Sarah Bob, and fiddler/vocalist/dancer Eden Macadam Somer. All were amazing and as a sidenote all were Moms!
There is a reason why these musicians brought us together. It is rooted in the very fabric of who they are. Their work is rooted in a global context, from the amazing people in the room, to the music they performed, to those they collaborate with on a daily basis. The music is powerful and unifying and the amazing concert brought people together.
Many stayed to engage in an open and honest discussion about what is currently happening in our country.  We identified key issues and talked about strategies on how to engage with peopel with different perspectives. There are so many amazing ideas out there and so many people wanting to engage, to learn from each other to share their experiences and perspectives and engage in discussions. This is one way we can #KeepMarching – but the options are endless.
I want to thank Sarah Bob for an amazing evening, thank all of the attendees for their thoughtful and engaging discussion, and thank you for your contributions to MomsRising. Your support enables us to keep doing the work that we do!
You can find more information on Sarah Bob here  http://sarahbob.net/ and on Eden MacAdam-Somer at http://fiddlegarden.net/