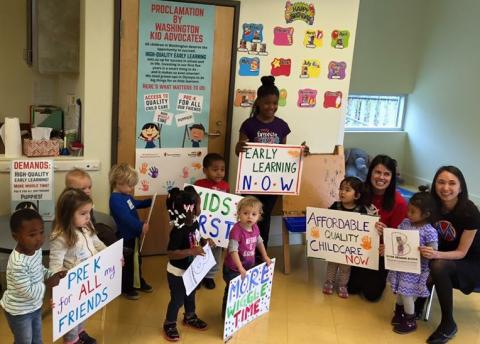 Move Aside Pin-Striped Lobbysts...We've Got New Advocates in Town: KIDS!
On Monday, November 23rd, pint-sized advocates pushed aside pin-striped lobbyists and took over the stage to issue their list of early learning demands in Washington state. Can you back them up? 
While the Governor races to finish his 2016 supplemental budget, Kid Advocates held a press conference and issued a list of demands directed at leaders in Olympia. The message? Invest in us! 
Can you help out these Kid Advocates and send your legislators a quick note to say you support their demands and need Washington to invest in our state's youngest? http://action.momsrising.org/sign/2016budgetearlylearning/?t=6&akid=7369.2119431.k0NHPb
Why are kids advocating for early learning?
It is painfully clear right now that our kids and families need a boost. In today's economy, families often need two incomes just to make ends meet. 70.5% of mothers with children under age 18 are in the labor force either out of necessity or by choice. [1] Unfortunately, right now childcare for an infant actually costs more than college in the majority of U.S. states, including here in Washington. [2] And sadly, only 3 in 10 of our littlest learners have access to affordable high quality preschool opportunities. [3] Research tells us that high quality early learning matters -- it provides the foundation on which our kids' hopes and dreams will be built. Early learning (programs like preschool and childcare) is a win all-around - for children, for families, for communities, and for our economy.
You live it, we know it, and we all need the folks in Olympia to know it, too!
Tell the Governor that you support our Kid Advocates and want to see investments in early learning this budget season! http://action.momsrising.org/sign/2016budgetearlylearning/?t=8&akid=7369.2119431.k0NHPb
Washington kids step up today to send their message loud and clear -- but your quick note helps to amplify their message. The more of our voices together, the louder we will all be. 
We need your voice today!