Mothers of Intention a Must for Moms
Quick – what come to mind when you hear "mom" and "blogger" in the same sentence? If you thought "potty training, pre-school and playgrounds," you're probably in the majority. But you're also wrong. In her marvelous book Mothers of Intention, Joanne Bamberger – aka PunditMom – shows us just how wrong.
A must-read before the election, this compendium of blogs shows us the breadth and influence of moms who blog, and how they're changing the way people think about motherhood and political issues. The book contains insightful introductions to each section from Bamberger, along the full spectrum of political viewpoints from women online.
Bamberger shows that mothers' blogging is leading to a lot of issue advocacy. Though she's personally liberal, she includes conservative pundits, and also pieces from progressive women who take a conservative view on some issues and vice versa, proving that women bloggers don't fit into neat cookie-cutter categories. We talked recently about moms, blogging and the book.
MB: You're a journalist and lawyer, but as you acerbically put it in your book, once you became a mother people tuned you out. Yet your moniker is PunditMom.
JB: I chose"PunditMom" to be ironic -- there were so few self-identified mothers writing opinion. It was -- and still is -- a perspective that's mostly missing from mainstream political commentary. Unfortunately, because "mom" is in my blog, I'm considered a "mom blogger" even though I don't write about my family, unless it's a jumping off point for a larger political or cultural discussion.
MB: Mothers of Intention shows us there's another whole cyberspace world that most politicians don't have a clue about. Moms are not just moms – they're adult women with strong opinions about all kinds of issues.
JB: It's fascinating that so few have clued in to this. Women are the majority users of most online platforms, including Twitter and Facebook. Close to 40 million women get their news and views from this shared information. Marketers have discovered this, and it's only a matter of time until the political world does as well. For the first time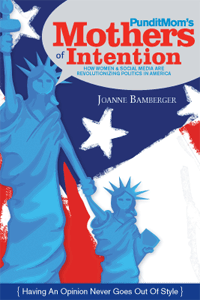 a presidential candidate appeared at the BlogHer conference that drew 5,000 female bloggers and followers. President Obama appeared via satellite; Mitt Romney turned down the opportunity. I dare say that those who wrote about the President's appearance most certainly influenced readers to pay more attention to the election.
MB: You've said you like "cause mom" better than any of the made-up election year labels we've endured – soccer moms, security moms, Wal-Mart moms and maxed-out moms. How would you describe cause moms?
JB: One good example is how ONE has partnered with women bloggers (who happen to be mothers) to raise awareness and advocate for global women's health and HIV/AIDS prevention. There are many instances like this, where the readers can become engaged with an issue and take on a cause that feels right for them.
MB: How can we get mainstream media to recognize cause moms? Pollsters love bumper-sticker labels that are easy to understand.
JB: Maybe if women were viewed less as bumper sticker slogans and more as fully developed citizens and voters. Pollsters loved "Wal-Mart moms," but that came from a Wal-Mart funded study, not because of anyone organically discovering it.
MB: From the political conventions, you'd think women don't do anything but mother kids. Michelle Obama spent a lot of time on "mom in chief," and Ann Romney practically built a memorial to moms on the stage. Are we regressing in political dialogue when it comes to female voters – just reducing us to parental status?
JB: The short answer? Yes. As a woman who came of age in the post-Gloria Steinem era, I thought we were past that. I was shocked that so many women at the Democratic Convention felt that before they could start their speeches, they had to first say they were moms and how much they loved their children. I'm glad they're happy with motherhood, but a road where motherhood trumps all other personal accomplishment will only lead us back to the June Cleaver era.
MB: On the other hand, during the first presidential debate neither candidate mentioned any women, including moms, at all.
JB: I was shocked about that. I believe it's because each one is under the impression that women in their parties have "no place to go." As a Democratic woman, I'm unhappy that the President didn't mention the issues so many women and mothers face today. You'd think since women are the majority of voters it would be different.
MB: What's the most important message from Mothers of Intention you'd like readers to come away with?
JB: Your voice is powerful. That's the message I wish more women would take to heart. Mothers of Intention was born because women told me "I'm not political." But when I pointed out writing they had done about issues important to them, they realized they weren't thinking about taking their views to a larger audience. If more women were sure of themselves -- and had a little time! -- we could make so much change for the world we leave to our kids and grandkids. I hope live long enough to see it.
***
~~Fired up? Join MomsRising now!