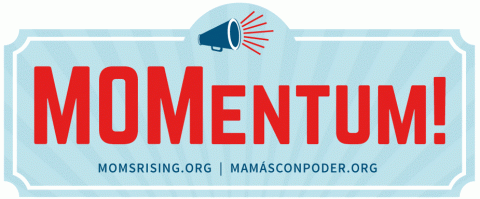 Mother's Day & Much More: May MOMentum
This was a May like no other, and we are grieving-- and taking action. Over the last three months, MomsRising members have made over 284,000 online actions and have made over 13,000 calls to Congress on legislation for COVID-19 assistance. These actions effectively lift up key areas of need that we're hearing about from our over million members directly to leaders for inclusion in the COVID-19 relief packages and other public policies. At the same time, we are fighting for racial justice, recognizing that economic, social, and racial justice are inextricably tied to each other, and that our country has a long history of racial injustice that we continue to suffer from to this day. We say the names of George Floyd, Breonna Taylor, Rayshard Brooks and so many others who have suffered and died at the hands of officials who were sworn to protect and serve. And we continue to call for justice, and to support the calls for justice from communities absorbing the greatest impacts of unjust policies.
Now more than ever, thank you for being part of the MomsRising movement.
MOTHER'S DAY: Solidarity, Action and Generosity
Thanks to donor support, our 2020 Mother's Day month was action-packed with activities that celebrate, defend and empower mothers. 
Get Out the Vote in 2020 with FREE Postcards ⇒ Help us reach 1 million moms 
Make Your Mark on the Map ⇒ Show other moms we are #InThisTogether 
Dedicate Your Donation ⇒ Hundreds of moms honored a mom with a gift (you still can!) 
PROGRESS: Fighting for Families in Crisis 
MomsRising donors' generosity boosted our advocacy efforts to help families get through the COVID-19 emergency:
- Together we expanded Unemployment Insurance (UI) to include gig and contract workers as well as increase the UI wage replacement rate so that during this crisis people will get close to 100% wage replacement. 
- Over 13,000 MomsRising supporters took action in support of passage of the HEROES (Health and Economic Recovery Omnibus Emergency Solutions) Act, a vitally important piece of legislation to provide economic relief to families during this health crisis. The bill passed the House in May. Read our statement
RESOURCES
Check out these important COVID-related resources:
What You Need to Know about the New Federal Emergency Paid Leave How will it work? Who's covered? How do you access the benefit? 
 How to Apply for COVID-19 Assistance Includes a webinar on COVID-19 programs passed by Congress. Lee esta publicación en español.
INSTA SPOTLIGHT 
Together we're raising the voices of mothers, like Siobhan.
MEDIA SPOTLIGHT 
Preschools and childcare might reopen soon. Should you send your kid?
"Families are worried. They don't know when this is going to end, and they're wondering if they need to leave their jobs. They're also worried that if they talk to their employers about how they are struggling, their employers, if they end up downsizing, might let them go."
— MomsRising Early Childhood National Campaign Director Nina Perez, CNN Health, May 16, 2020