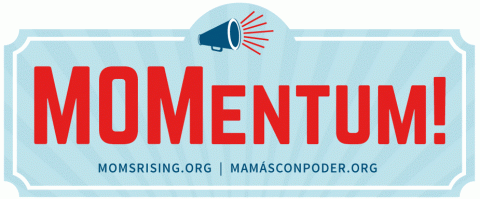 Mother's Day, Equal Pay: April MOMentum is HERE!
How your donation is making a difference
Spring has sprung and this April has been as full of progress as it has been of wildflowers! From advancing equal pay in Washington, to moving the needle on Medicaid expansion in North Carolina, to amplifying the second annual national Black Maternal Health Week, we're blooming with victories! And Mother's Day is coming on May 12; please keep your eye out for a special email from us.
P.S. As always, we love to hear your feedback. What do you love about being a MomsRising supporter? What do you think we should tackle next? Send your thoughts to me, anita@momsrising.org. Thank you!
EQUAL PAY VICTORY
Your generosity propelled an amazing equal pay victory in Washington state! In a strong bipartisan vote, the Washington Senate passed ESHB 1696, which bans employers from asking about pay history.
MomsRising supporter Julia Buck, who shared her story and worked alongside many other supporters pressing for passage of the bill, says,
"Pay discrimination is a moral issue and it hurts women and families. I also think it hurts businesses — certainly it affected my morale and productivity. And it hurts our economy."
With this new law in place, more women will be protected from the kind of discrimination that Julia faced. Thank you for fighting for women's equality.
BLACK MAMAS MATTER
IT'S ABOUT TIME!
MomsRising was proud to participate in the second annual national Black Maternal Health Week (#BMHW19), which concluded on April 17. The theme of #BMHW19 was "Decolonizing Research to Develop Meaningful Policy Meaningful Policy for Black Maternal Health." Together with several organizations, we're making progress in educating lawmakers and the public on policies and practices that protect the lives of Black women and families.
Your gift made this important progress for maternal justice possible. Thank you.
MEDIA SPOTLIGHT
Activists groups urge lawmakers to pass Medicaid expansion during day of action
ABC News, April 16, 2019
"When parents have access to health insurance, that bolsters the health and economic security of the family and improves the health of the entire family."
— Felicia Burnett, MomsRising Senior Campaign Director for Healthcare
MEMBER LOVE
Members share how MomsRising is a positive force in their lives
"The issues you are targeting are very much in sync with me. Keep up the good work especially the day care support. It is key to working single moms' survival."
— Sam
Tell us, what does MomsRising mean to you? Send your comments to anita@momsrising.org.
COMING SOON
May 12 | Mother's Day! Keep your eye out for a special celebration email from us!