Mother's Day Craft Roundup!
Mother's Day is right around the corner! Have you picked up gifts for the moms in your life? If you haven't yet, and you're feeling crafty, try out one of these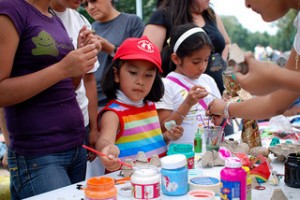 Photo credit: Photo by Flickr user Aris Goinis
Mother's Day crafts. There are tutorials for kids of all ages, as well as grownups, and ideas on how to make everything from homemade sachets to wind chimes to pretty brunch decor, and more! Visit MomsRising on Pinterest this week as we add more Mother's Day craft tutorials daily to our Mother's Day Board. And be sure to share your favorite craft blogs and ideas in the comments!
Mother's Day Crafts: Try one of these cute, kids friendly Mother's Day themed craft tutorials!
Garden Crafts: Celebrate Mother's Day, and the season, with fun and easy DIY gifts for the garden.
Mother's Day Brunch: Making a traditional breakfast in bed? Jazz it up with some of these fun additions.