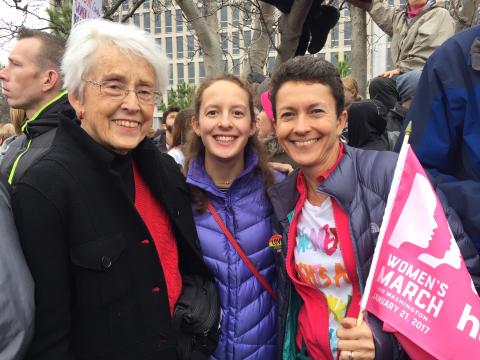 Mother's Day, Coronavirus Edition: A New Kind of "Self-Care"
As Mother's Day approaches, this year feels different.  In a time of coronavirus, we need more than flowers and a day off.  We need more than traditional self-care.  We need recognition, deep and lasting recognition, that the work we do as caregivers is invaluable.  We need recognition from society as a whole, not just our families.  The pandemic has shown everyone that we are essential – women make up over half of the workforce deemed "essential," including 77% of healthcare workers.  Our lives are on the line as front-line healthcare workers:  the CDC reports that 73% of healthcare workers who have contracted coronavirus are women.  On top of all of this, our stress is through the roof with the roles we play at home:  women were already making 80% of the healthcare decisions in families, and now, as at-home caregivers, we are juggling even more, with home-schooling added to our paying jobs.  
Mothers and caregivers are so invaluable that society can't seem to put a price on it. But we have paid a price. We carry an added burden of stress, due to the emotional labor that comes with caregiving.  And we have foregone much of our potential economic and political power due to our caregiving roles.  Because when we care for others, our labor is unpaid or underpaid. And yet our time has an opportunity cost. Every hour we spend on caregiving is an hour that cannot be spent on something else, something economically or politically empowering.  And try as we might, we cannot get more hours in our days.  (I regularly cut corners on sleep, and it's still not enough.)  
Even though women make 80% of the healthcare decisions in families, we do not have anything close to 80% of the political power in this country.  We still only comprise 24% of the members of Congress, 18% of governors, and we have never had a woman president or vice-president.  We must change that.  Why?  Because our voting preference differ from men's, and those preferences can drive a new and different set of societal priorities.  Priorities that would ease our caregiving burdens. Priorities where our work is truly valued and supported, not just given lip service:  Where caregiving is better paid, family leave is valued, and healthcare is universal.  With these supports, we wouldn't need a bubble bath! I would rather have power than flowers.
It's time for us to come together to demand a deep and lasting recognition. How? This Mother's Day, let's think about "self-care" a little differently. Yes, take the bubble bath and by all means, meditate. But let's also connect with each other, in a deep and powerful way. And by that, I mean politically powerful.    
Let's honor ourselves by joining together with other mothers and caregivers to push for political priorities that support caregivers. One of our top priorities should be the goal of universal healthcare in America.  We felt our power during the Women's Marches. We can continue to feel that power now.  Even if you can only spare 5 or 10 minutes, make those minutes meaningful. There are so many things you can do:
Join an organization like MomsRising, Supermajority, or the Women's March, and connect with the people and opportunities they provide
Sign up for "action alerts" on healthcare issues   
Share a healthcare story on social media 
Donate to a candidate who supports universal healthcare.
No matter which things you choose to do, be sure to spread the word to your friends – you will amplify your efforts and strengthen your bonds and supports.  Do this, and you'll take self-care to a whole new level -- you'll be glad you did!  
Rosemarie Day is the founder and CEO of Day Health Strategies, a successful mission-driven, woman-owned consulting firm that just entered its 10th year. She is also a mother of three, a breast cancer survivor and an activist. She is the author of the book, Marching Toward Coverage: How Women Can Lead the Fight for Universal Healthcare (Beacon Press, 2020).