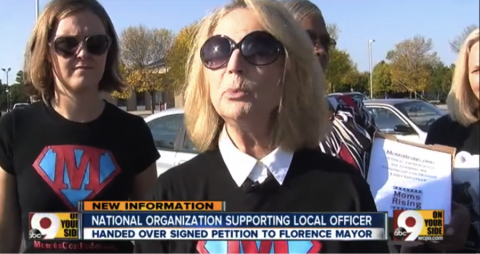 MomsRising Super Moms Take on Florence, Kentucky City Officials!
A huge THANK YOU is in order for three MomsRising moms who showed their support for mom Lyndi Trishler and for family friendly workplaces policies on September 30th by hand delivering 10K petition signatures from MomsRising members—like YOU—urging Florence, KY Mayor Diane Whalen to rescind the city's discriminatory, and illegal, policy denying light duty to pregnant city employees. 
MomsRising members Colette, Kim, and Kimberly went above and beyond volunteering to make sure MomsRising moms were heard on this issue and even spoke to the media! Check out this local channel 12 news coverage and some great articles about the delivery: 
·      Moms group to city: Change pregnancy policy
·      MomsRising: Policy for pregnant workers is discriminatory
·      Group calls out Florence over pregnancy policy
·      Moms call on Florence to change work policy after city forces pregnant cop to take unpaid leave
It's MomsRising members like these who make all the difference, because petition deliveries ensure moms across the country are heard, helps raise awareness on pressing issues, and keeps the pressure on community leaders, like the Florence City Mayor, to make sure families are supported.
But don't take my word for it! Here's what some of our members had to say about the delivery!
"It felt great to be able to represent the 10,000 people that signed the petition and support such an important issue. It's important also to show that when you sign an online petition- something important is done with it." ~Kim Fulbright
"Thank you for giving us the opportunity to help bring attention to discriminatory work place policies that create unnecessary hurdles for pregnant women. While this action took me waaaay out of my comfort zone, I realized Officer Lyndi Trischler had been more seriously cast into an arena of public attention and personal hardship that humbled my discomfort. It is because of the personal fortitude of working women, like Officer Trischler, that all women across our nation will someday realize nondiscriminatory policies wherever they are employed. May all moms rise!" ~ Colette Cole-Saner
[Local channel five coverage: http://moms.ly/1CHKU4w]
This delivery made a huge difference on this local case by forcing local leaders to respond and building awareness in the community, but our work isn't done yet! Unfortunately, Florence Mayor Diane Whalen has yet to rescind the policy, which means we need to continue raising our voices and getting the word out.
If you'd like to get involved by writing a letter to your local newspaper or spreading the word on social media, send us an email at this link and we'll get back to you with ways to get involved: http://www.momsrising.org/contactus.
P.S. Want to learn more about this case? Check out this blog post by a Better Balance.